Emma Jane Jachimowicz, 7
Fulton Ferry Landing, Brooklyn
By Kate Lowenstein Tue Sep 2 2008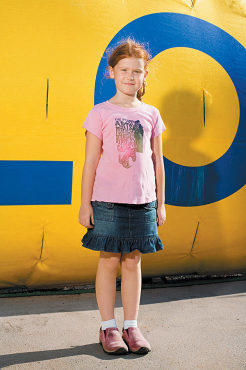 Photograph: Jay Muhlin
What are you up to?
I went on the Water Taxi.
Did you see the waterfalls?
Yeah. I've never seen waterfalls so close up before! I wondered how could the water get up there.
I think we all did. So are you going back to school soon?
Yeah, and I'm really sad. I'm gonna be in third grade. It's really rule-y.
Rule-y?
Like, you have to listen to rules every minute! Like in recess, there's no running! We have to walk. Sometimes we break the rules. We try not to let anyone see because then we have to sit out on the blue bench for the whooole recess. And recess is only, like, about five minutes. Well, maybe more like six minutes.
That seems unfairly short! What did you do this summer?
I went swimming at camp, at the Ballet Academy East. Other than that I didn't really do that much. Just stayed home. I'm a home girl. And my mom says I'm a city girl too because I like the smell of my elevator and I like the subway smell.
Wow, not many people like that. What do you do at home, home girl?
I love to watch movies on my computer. I have a humongous, humongous house. I used to live in a different place but that was unsafe. We had a robber.
Man. Think there are a lot of those in New York?
Yeah, because it's a big place and it fits more bad people. New York is, like, one of the biggest countries in the world.
More from Emma
"My last name is really long because my dad is Polish. He's teaching me Polish, like dobry, which means "hi." There are lots of people here who speak both Polish and New York."
"It's fun having red hair because not much people are redheaded. And I don't like to be the same as everyone else. It's kind of fun having freckles because everyone is, like, trying to count them. It's funny when they're like, 'I give up.'"
Emma says: "I don't like boys. They're all, like, tough and rough. They squeeze each other's necks and stuff. I don't really like fighting. I'm friends with one boy—Robert's nice and he's a boy. That's pretty much all the boys who are nice that I know. But men are nice. Boys show off to girls, but men are calmer. Men use their words, not their hands."