Ewa Popielinska, 53
21st St between Eighth and Ninth Aves.
By Time Out editors Mon Jun 29 2009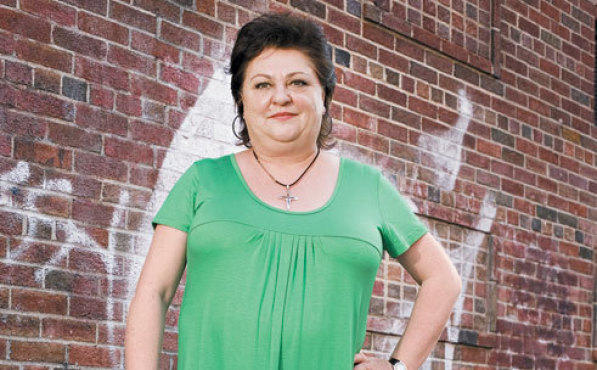 Photograph: Jay Muhlin
Where are you from? Poland. I come New York 18 years ago. My English is from streets. I don't take no classes. I'm a genius!
Clearly! What brought you here? My sister. In Poland I had beautiful six-bedroom house, I had very, very good husband. I was princessa, he treat me so good. I think to stay New York one year, make couple thousand dollars and then go home.
But you're still here two decades later. Yeah. One year I was here and I have very good job. Good money. I send it all my husband. I am rich at the end of year. But then I call him, and I knew there's something different. A woman have instinct. I call my best friend and ask her. And she said, "Please don't be upset. Your husband have romance." And I know this woman! Beautiful. Tall, blond, gorgeous.
Scandalous! Yeah. I call him. It was June 17, our 14-year anniversary. He said, "Now I know what is love. I want a divorce." It was like someone stepped my heart.
Did you lose faith in men? Yes. I lost house, I lost husband, I lost trust. I lost everything.
And now? You know, now his life is terrible. The relation with this woman is over. He have no job. He start be like, crazy.
And you're living the good life in New York. Yes! I live Manhattan, beautiful co-op with a beautiful balcony. I have beautiful relationship with a man. I am lucky woman.
More from Ewa
"You know how many state I see in America? 38. Arizona, Nevada, I feel good. It's hot, dry, I have more energy. Maine? Forget about it. We talking of lobster."
"I am 53. My mind is 25. Absolutely, honey. [Laughs] I am the biggest joker. I love fun."
"I have good life in Poland, but my sister push me [to come]. So I go to American embassy and I pray that this guy don't give me this visa. He ask me, 'Why you wanna go to America?' and I say, 'Because I don't see my sister...plus I never no see Disney World!' And he look me and say, 'Okay, then you go.' And I say 'Oh shoot.' [Laughs]"
—Kate Lowenstein