Fall events in Central Park 2011
Mark your planner with these concerts and activities.
By Shayna Courtney Thu Sep 8 2011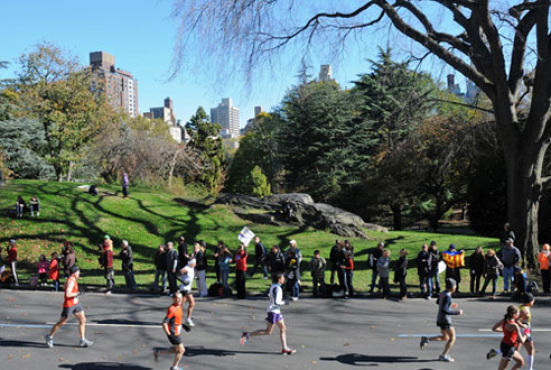 ING New York City Marathon Photograph courtesy Central Park Conservancy
ING New York City Marathon and Concert
Even if you're not signed up to course through the five boroughs on Nov 6, snag a spot near the finish line to runner-watch and enjoy the celebratory live music, presented by Jazzmobile. Duke Ellington Circle, Fifth Ave and 110th St (centralparknyc.org/calendar). 11am; free.

Andrea Bocelli
The Italian tenor will join the New York Philharmonic for a free, ticketed performance on the park's Great Lawn. Bocelli-heads without a few hundred to drop on VIP passes—the only way to gain entry now that all free ticks have been doled out—are still in luck. PBS will broadcast the concert later this fall. Enter at 72nd St and Central Park West or 72nd St and Fifth Ave (bocelliincentralpark.org). Thu 15 at 6pm; free.

Chess Lecture and Simul
Fifteen-year-old FIDE Master and last year's state champ Aleksandr Ostrovskiy will talk shop before taking on up to 30 challengers at this simultaneous event. Registration begins at 9:30am for players with an official USCF rating of 1,000 or higher, while boards and pieces will be on loan for pairs of spectators who want to bust moves of their own. Chess and Checkers House, midpark at 64th St (212-794-4064, centralparknyc.org/calendar). Sat 17 at 10am; free.

Wilco
Days before the Sep 27 release of The Whole Love, the first album off the band's own dBpm Records, Wilco takes Rumsey Playfield to preview new material, including the organ-heavy, introspective single "I Might." Nick Lowe joins the band for their only New York stop. Midpark, enter at Fifth Ave and 69th St (bowerypresents.com). Sep 22 at 6pm; sold out.

My Dog Loves Central Park Country Fair
Bring your canine counterpart to Naumburg Bandshell for an afternoon filled with events like agility courses, guide dog demos and contests in categories like "Best Kisser." Owners can receive information on therapy assistance dog groups, renew licenses and even microchip their pooch before the Best in Park dog show begins at 2:30pm. The Fair, now in its ninth year, aims to promote good park etiquette. 72nd St at Fifth Ave (centralparkpaws.org). Sep 24 from 11am-3pm; free.
The Black Eyed Peas
After getting rained out in June, Fergie Ferg and company are slated for a Sep 30 redux performance. With all proceeds going to the Robin Hood organization, which funnels money into programs for New Yorkers living in poverty, this guilty pleasure concert becomes much less so. Great Lawn, enter at 84th St and Fifth Ave (blackeyedpeas.robinhood.org). Sep 30 at 7:30pm; $100.

Inked Up: Printmakers and the Parks
Printmakers in the Art Students League used linoleum, metal and stone to create the pressed ink works featured in this fall exhibition. Their designs, on display in the Arsenal Gallery through Oct 20, celebrate city parks and the scenes found within them. 64th St and Fifth Ave (212-360-8163, theartstudentsleague.org). Mon-Fri from 9am-5pm; free.

Starfest 2011
Telescopes and binoculars will be provided at this viewing of fall constellations, led by the Amateur Astronomers Association and the Urban Park Rangers. Sheep Meadow, midpark, enter at Fifth Ave and 72nd St (212-628-2345, centralparknyc.org/calendar). Oct 22 at 7pm; free.