Fall fashion 2007
By Time Out editors Thu Sep 13 2007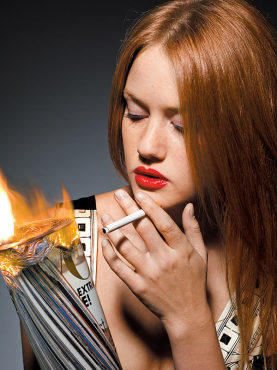 RECOMMENDED: See all of this year's fall fashion content
Flipping through the September issue of Vogue, we realized something we always knew but never got pissed about until now: The magazine's useless. It's pretty to look at, for sure, influential and impressively heavy—this month's was their "biggest issue ever," part of a record fall for fashion mags in general. But New Yorkers looking for actual clothes to wear had to sift through 727 pages of ads, only to find a spread featuring an amazon in an explosion of "dyed fox fur spliced with plaid taffeta" and Sienna Miller wearing what looked like a turkey stitched to her back.
In this fashion issue, you'll find our response—stories devoted to on-trend, affordable styles, with a little context, too. (We show you the people who make the clothes—not just the designers, but the Garment District workers.) You'll also see New Yorkers you won't find in the glossies—some superstyling ordinary folks, as well as models' unmodely friends. Because although Vogue may be the bible of fashion, some of us devils just can't wear Prada.


Fashionable at all costs: Each of these aggressively stylish New Yorkers makes less than $50K. How do they manage to look different every day?


Trend game: There are looks that die a quick death (and deserve it), and then there are those that last (and come back). Here, our favorite sure–to–be–durable fall trends, recast affordably.


Fall fashion hot or not: Vote on which runway trends we should cheer and which we should shun like a rabid animal.


Now you see it, now you don't: A look at fashion highs, lows and disappearing acts courtesy of the always capricious Vogue.


Worn identity: Fashion ringers don't always dress according to the runways. Five of them tell us what they're most excited to wear.


Public Eye fashion bracket, Women: Who's the most fashionable New York woman we've stopped on the street in the past two years. Your votes will decide!


Public Eye fashion bracket, Men: Now who's the most fashionable New York man?


You saw it here first: A few of this season's runway fashions already debuted on NYC streets—months ago. Below, some "new" fall trends that may look familiar.


Not in Vogue ... yet: Three young design stars—about to break into the big time—reveal their inspirations, from novels to country music.


Next!: Two members of the new new wave of fashion designers.


Fashion avenue: A visual ode to our own New York, one of the only places where outlandish—and often adorable—styles totally fly. Tell which you like best.


Model friendships: How's life with a runway–ready BFF? Not bad. (Especially the free drinks.)


Thread winners: You love to sneer at all things fashion–related, but the industry actually does a lot for New York–bucket hats and It bags aside.


Eyes of the needle: A snapshot of the (thriving? dying?) Garment District.


Aim to pleat: Designer Alexander Wang breaks down a skirt's trip from his brain to the sales rack.


Where to buy: Scope out these shops for the clothing, accessories and products featured.