Felicity Barnshaw, 18
First Ave between 6th and 7th Sts
By Time Out editors Thu Aug 7 2008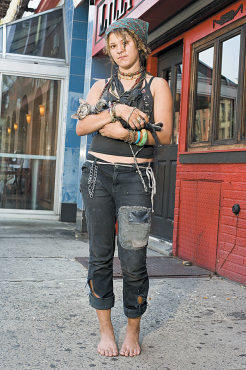 Felicity Barnshaw
Photograph: Jay Muhlin
Who's your little friend?
This is Anonymous—'cause we don't know if it's a boy or a girl.
Adorable. What are you up to?
Asking people for money. Usually I can make, like, $30 in a few hours.
Is it hard to ask people?
No. I don't mind it. I get a lot of shit, though—people say, "Why don't you get a job or go back to your mom?"
And why don't you?
'Cause I like it this way. My parents gave me the boot when I was 15 'cause I got into bad stuff. I did this to myself.
Do you really think that?
Well, I guess they didn't have to be so hard on me about it, but I don't hold it against them.
Where do you sleep?
Tompkins Square Park.
Is there a whole social system there?
Yeah, totally. It's like high school. I only like a select few.
Are you dating anyone?
That's something that's pissing me off right now. Everyone is fucked up. You can't become devoted to someone if they don't know what they want—and no one in the park knows what they want.
Funny, that's the case for those of us who don't sleep in the park, too.
[Laughs] Yeah? Well, I lost my ex of three years about a year ago, so I'm not looking for anything serious.
You know, tons of blistered women in this city wish they could forgo shoes. What's it like?
[Laughs] I like it—it's too hot for my big boots. My feet are actually much cleaner than usual right now.
More thoughts from Felicity
"I used to be in three bands: I played the banjo, the bass and the guitar. But I dropped them. For some reason I drop every talent I pick up."
"There's some guy around here who pays me $5 to let him take photos of my feet. He likes it when they're really dirty. I don't think it's a fetish thing—he doesn't touch them or anything."
"Anonymous eats way more than I do. If I sit out and try to make money, I get, like, several big bags of dry food and, like, seven cans of wet food. I can barely carry all that cat food, and meanwhile I'm starving. But I'm glad Anonymous is cared for- I always make sure he eats before I do."
--Kate Lowenstein