Flea markets walk
Candelabras, Jesus gear and Ross Perot pins-it ain't junk if somebody wants it. And that somebody could be you. Shop from Hell's Kitchen to Union Square.
By Ashlea Halpern Wed Apr 30 2008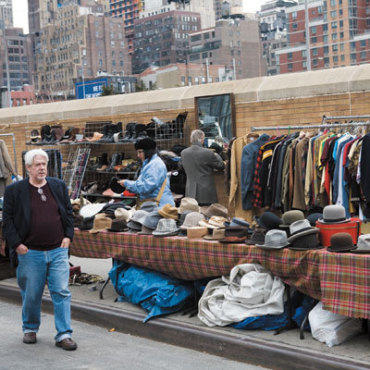 Start: 39th St between Ninth and Tenth Aves
End: Union Square
Time: 4.5 hours
Distance: 2 miles
Photograph: Jeff Gurwin
1
We know what you're thinking: SoHell on a Sunday morning? You'd rather snort broken glass. We would too, were it not for this 32-year-old flea market's unbeatable deals. Open sunrise to sunset every Saturday and Sunday, The Annex/Hell's Kitchen Flea Market (39th St between Ninth and Tenth Aves, 212-243-5343) boasts 30-plus vendors shilling cameo lockets, Texas ties, gold candelabras, owl tchotchkes and enough tattered bridal veils to keep Miss Havisham single for life. Some prices are steep ($64 for a Brady Bunch–orange cookie jar, really?), but haggling is encouraged. And if you're in the market for a fur stole, there are at least a half-dozen foxes (faces intact) to choose from. (Tip: If it's about to rain, hop the $1 Annex Market shuttle from Hell's Kitchen to the Antiques Garage; see No. 6. )
2
If you're of the, ahem, gardening variety, pop by NYC Hydroponic (495 Ninth Ave between 37th and 38th Sts, 212-695-5768) for grow lamps and liquid fertilizer, or just to have your pic taken out front looking stoned.
3
Pay no mind to the vendors bottlenecking Ninth Avenue with their bootleg movies and toy-box rejects—it's brunch time! Skylight Diner (402 W 34th St at Ninth Ave, 212-244-0395), recipient of the 2008 Eat Out Award for Best Manhattan Diner, slaps together a mean fried-egg sandwich at an even meaner price ($2.25!).
4
Sweet respite awaits on Seventh Avenue between 30th and 31st Streets: a bathroom at the two-story Starbucks.
5
Continue down Seventh till you hit 25th Street, then hang a left. The City Quilter (133 W 25th St between Sixth and Seventh Aves; 212-807-0390, cityquilter.com) specializes in fabrics and NYC-themed prints (quaint brownstones, Judie Rothermel skylines, etc.)—perfect for reupholstering that busted chair you got in Hell's Kitchen.
Photograph: Jeff Gurwin
6
Once you've sated your paisley jones, behold the flea-market mothership: The Antiques Garage (112 W 25th St between Sixth and Seventh Aves, 212-243-5343), where, every Saturday and Sunday, cantankerous sellers push their wares (late-'80s karate magazines, Ross Perot campaign pins, vintage bowling shoes, dreidels, pillbox hats and horn-rimmed glasses) in a two-story parking garage. Michael Stolbach's booth, located on the ground floor, is especially worth seeking out: He trades in outsider art and old microgenre photos (e.g., "African-American: Civil War," "Gay Interest: Affectionate Men").
7
Across the way you'll find a disco-ized Goodwill (103 W 25th St between Sixth and Seventh Aves, 646-638-1725) blasting Justin Timberlake remixes. We scored a Pierre et Gilles–esque Jesus pic for $1.99, a checkered scarf for $4.99 and a tacky gold-and-coral pendant for $7.99.
Photograph: Jeff Gurwin
8
Continue east to the West 25th Street Market (W 25th St between Fifth and Sixth Aves, 212-243-5343). This flea spot is open all weekend, but the pickings are slim—and raunchy. Steer clear of the back alley, which is all rusty tools and bins of pornos, and head for the rows in front: They're stocked with killer vinyl (Black Sabbath's Master of Reality, only $3.99), old stag mags, and Pier 1 knockoffs like African tribal masks and jade Buddha statues.
Photograph: Jeff Gurwin
9
Cut across Broadway and rest your old-lady limbs in lovely Madison Square Park before heading down 24th and back to Sixth. And—lo!—there's another Starbucks for your pee-bag–emptying convenience. Onward south, you'll see the Chelsea Antique Collectible Flea Market (Sixth Ave at 17th St, 212-627-0667). The market is small but features rustic wooden benches, accordioned license plates, portable typewriters and mounds of ghetto-fab gold chains (we upped our street cred by negotiating a two-for-$15 deal).
Photograph: Jeff Gurwin
10
The tour ends in a place we all love to loathe: Union Square. Get over the crust-punk protesters and tables laden with John Lennon magnets, and you'll find young artists shilling handmade shadowboxes, haunting pinhole-camera prints and sweet-smelling soaps. Our personal fave, Kudulis (myspace.com/kudulispaints), shoots poetically inclined girlfriends in 1920s garb and transfers the images onto brightly painted blocks of wood ($15–$30). "Union Square gets a bad rap," muses our muse. "But there are legitimate artists here. Really."
DID YOU KNOW?
St. John the Baptist (210 W 31st St at Seventh Ave, 212-564-9070) is a hulking monastery run by Capuchin Franciscan friars. If you're walkin' by on a Sunday, you'll hear their bells for blocks.
Sunday
Wanna try this walk?
Meet Ashlea near the Annex/Hell's Kitchen Flea Market (at the corner of 39th St and Ninth Ave) Sun 4 at noon.*
* If you join us for a walk, TONY is not responsible for your safety or your expenses. But if you have fun, we will take full credit for that.