Free theater
By Andy Propst Mon Mar 29 2010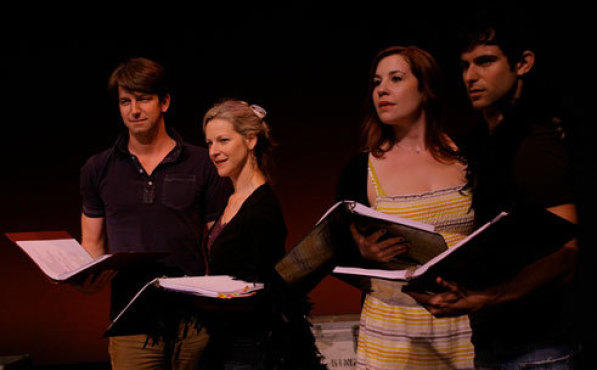 York Theatre Company Photograph: Ben Strothmann
Lark Play Development Center
See the company that won an Obie Grant for its new-play development work: Check the website for gratis readings of shows. Lark Studio, 939 Eighth Ave between 55th and 56th Sts, second floor (212-246-2676, larktheatre.org)
Martin E. Segal Theatre Center
A panel discussion with BAM executive producer Joe Melillo, a discussion of race in theater, and a staged reading of poet and playwright Marcus Gardley's ...And Jesus Moonwalks the Mississippi are representative of the richly varied free events offered year-round at this ambitious arts center. The CUNY Graduate Center, 365 Fifth Ave between 34th and 35th Sts (212-817-1860, web.gc.cuny.edu/mestc)
New York Classical Theatre
The company stages a few of the Bard's plays each summer. This time, they'll offer Hamlet, Richard III and Much Ado About Nothing. Central Park, enter at 103rd St * Castle Clinton, Battery Pl at State St * World Financial Center, 220 Vesey St at West St (212-252-4531, newyorkclassical.org). Check website for schedule.
Passion Play Festival
Epic Theatre Ensemble offers free readings of religious-themed plays in honor of the New York premiere of Sarah Ruhl's Passion Play (which begins previews April 27). Various times and locations throughout the city; visit epictheatreensemble.org. Mar 27--Apr 29.
Shakespeare in the Park
The granddaddy of free theater offers two shows in Central Park each year, one Shakespeare and one surprise. Delacorte Theater, Central Park, enter at 81st St and Central Park West or 79th St and Fifth Ave (212-539-8500, publictheater.org)
Shakespeare in the Parking Lot
For a grittier, street-theater-style Shakespearean experience, check out this scrappy company's stagings on the concrete of the Lower East Side. Broome St at Ludlow (212-877-0099, drillingcompany.org)

Get a Latin groove going with the free panel discussions about Chilean and Argentinean theater and Latina playwrights. Stay tuned to find out more about this year's June edition. 212-695-4010, teatrostagefest.org
Theater for the New City
The annual LES Festival of the Arts is a weekend-long celebration of the neighborhood's theater, music, dance, comedy and arts. Theater for the New City, 155 First Ave between 9th and 10th Sts (212-254-1109, theaterforthenewcity.net). May 28--30.
York Theatre Company
Check out new musicals before they become hot tickets on or off Broadway via the free readings York offers several times each month. St. Peter's Church, 619 Lexington Ave between 53rd and 54th Sts (212-935-5820, yorktheatre.org)