George Wong, 26
Tenth Ave at 22nd St
By Time Out editors Thu Jul 6 2006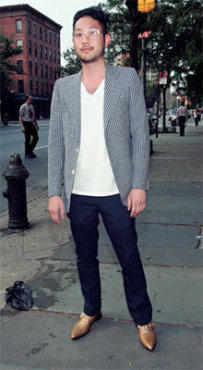 George Wong Photograph by Donald Bowers
ORIGINALLY FROM: Auckland, New Zealand
WHERE'S THE ACCENT? "It fades in and out. If I were amongst Kiwis it would come out. Most people think it's Boston because I don't really form my r's."
OCCUPATION: Employee at Max Protetch Gallery and sometime painter
THOUGHTS ON THE ART WORLD: "It definitely differs from one's art school aspirations. In a city like New York, where all the galleries are concentrated in a certain area, you can see it as a commercial business."
THE LOOK: "I don't wear jeans. I'm one of those people. I have trousers and blazers. You know, I like to be a bit of a dandy. It's the colonial Britain in me."
ARE GOLD SHOES MADE FOR WALKING? "Comfort doesn't mean anything. You gotta sacrifice for fancy shoes."
"I have a lot of fancy shoes. Ever since I discovered eBay, it's been really bad. It makes it so easy—there's less footwork involved...uh, no pun intended. I like shapely, old-fashioned shoes: shoe shoes. I was wearing these last night and a pair of cops in a car stopped just to say how much they liked my shoes. And this was in the middle of the night."
Cop your own attention-getting kicks at Commes Des Garcons (520 W 22nd St), where shoes like these go for $500--$800.
--Market editor Kristina Dechter, edited by Kate Lowenstein