Get skills, give back
Volatile times are creating a greater need for jobs---and courses---that make a difference.
By Jana Martin Thu Aug 4 2011
---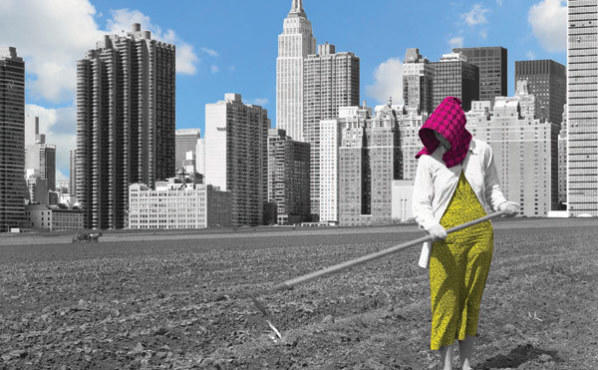 Illustration: Kathryn Brazier
Resources and energy
An $8 million mandate from President Obama gave the Bureau of Labor Statistics (BLS) the means to study the rise of "green-collar" jobs (the first report is due out in 2012). Keep ahead of the curve: Columbia University School of Continuing Education (212-854-9666, ce.columbia.edu) has a large-scale sustainability-management program including courses like "The Science of Sustainable Water" (starts in early September), which addresses the pressing issues of water conservation on a changing planet, applying management strategies and other practical tools.
Energy is another hot topic: Global consumption is expected to increase by 160 percent by 2050, despite climate concerns. Over ten Wednesday-night sessions starting September 21, "The Nuclear World: Alternative Energies and Proliferation in an Era of Climate Change" at New York University School of Continuing and Professional Studies (212-998-7200, scps.nyu.edu) takes an unflinching look at our choices and investigates whether nuclear energy can be made safe, in light of Fukushima's recent nuclear catastrophe (and the legacies of Chernobyl and Three Mile Island).
Green financing
"You've got your moral commitment; now how do you pay for it?" asks environmental consultant Kristen Bacorn, the instructor of Hunter College Continuing Education's popular "Green Finance" class. Learn about government incentives, tax relief and renovation loans that favor going green. The single-session evening class (Oct 20; 212-772-4000, hunter.cuny.edu) is a starting point for researching and applying for your own projects.
You don't need any accounting experience to take the "Green Accounting" seminar at Columbia University School of Continuing Education (212-854-9666, ce.columbia.edu), starting in early September. Designed for those in the environmental-science and sustainability-management fields, the course covers the basics of financial accounting with a green focus. Using real case studies, it addresses such questions as how does a business account for waste, depletion and by-products? and explains how to calculate the cost of the full life cycle of a product, from manufacture to disposal/recycling.
Urban agriculture
From rooftop farms and brownstone-backyard chickens to sizable community gardens, the grow-it-local movement is thriving in Gotham and other urban centers. The New School's "Urban Agriculture" course (212-229-5124, newschool.edu), part of its multidisciplinary food studies program, looks at how food can be (and is) produced in cities—with profound environmental and economic benefits. Starting August 30, 15 Tuesday-night sessions comprise New York--centric case studies, readings, discussions, guest lectures and field trips.
Prefer to use your hands in the pursuit of social justice? Think like a farmer and plan ahead—by getting in your application for Farm School NYC (212-645-9880, ext 224; justfood.org/farmschoolnyc). Applications are due November 1 for the next session, which starts January 1. The comprehensive certificate program takes two years, or you can take individual classes. The organization, part of JustFood, aims to address social and economic ills through local food production, because despite the recent vogue, urban farming is far from a flash in the pan. "Actually, New York has an incredible agricultural history," says director Jane Hodge. "There were huge farms in the Bronx and Brooklyn [as late as the 19th century]." Classes, which range from lectures to fieldwork, take place in all five boroughs, and cover such subjects as crops that thrive in urban settings, bee- and chicken keeping, tending techniques, and seed storage and cultivation. Tuition is based on a sliding scale.
Human rights
Jobs in what the BLS calls "advocacy, grant-making and civic organizations," from international NGOs to small city nonprofits, are expected to increase by some 14 percent between 2008 and 2018 (well beyond the average). Among the key global issues are human rights and how the shifting global stage is affecting them. Learn more in "Democracy, Development and the Environment: The Human Rights Debate in India and China," a six-session Saturday-afternoon course starting October 15 at New York University School of Continuing and Professional Studies (212-998-7200, scps.nyu.edu), and part of its certificate program in global philanthropy.
You don't have to look to other countries to study the shifting arena of human rights: Founded in 1903 but only recently in the public eye, the naval base at Guantnamo Bay has embodied the darker side of U.S. foreign policy. Led by Julia L. Foulkes, the 15-session "History, Place and Conscience: Investigating Guantnamo Bay," Monday nights at the New School starting August 29 (212-229-5124, newschool.edu), uses the base to investigate issues such as imperialism and colonialism, international law, labor, immigration and public health, and looks at what we remember and forget about the past.
Social work
According to the BLS, our citizens need more help: Between 2008 and 2018, jobs for social workers are expected to increase between 12 and 16 percent, above the average (11 percent in all fields). Part of that demand will be created by modern pressures on children. Among Touro Graduate School of Social Work's continuing-education offerings is a new certificate in play therapy. "There are so many added pressures on children today—homelessness, national disasters, parents stressed to the brink," says Melissa Earle, Ph.D., director of continuing professional education and online learning at the school. "Play therapy is a tried-and-true method of reaching children that speaks their language." Classes for the program start in October.
Touro's certificate program in Advanced Clinical Practice with Returning Veterans and their Families (877-679-8687, touro.edu/msw) is highly topical. Not only are some 600,000 vets expected to return home from combat over the next 18 months, but about 50 percent also have PTSD and traumatic brain injuries. "There's an incredible need to help not only veterans, but their families," says Dr. Earle. Classes start in September.
Veterans are also a focal point in the postgraduate certificate program in trauma studies and treatment at Adelphi University School of Social Work (800-233-5744, socialwork.adelphi.edu/conted), which includes clinical-oriented courses on combat veterans, as well as trauma-affected adults, children and adolescents. A large roster of continuing-education and professional-development courses also includes one-day fall seminars on "Internet and Social Media Use: Boundary and Ethical Considerations for Social Work Practice" (Oct 14) and "Skills or Pills: How to Assess and Treat Children and Adolescents" (Nov 18).
"We also have an online course for mandated reporters—such as a teacher or a cop—on recognizing the signs of child abuse," says Gina McGovern, program coordinator at Adelphi's Office of Continuing Education and Professional Development. "You can take it in your pajamas," she says. "When we can, we try to make it easier."