Golden SAGE
The organization for LGBT seniors celebrates 30 years of love and support.
By Beth Greenfield Thu May 22 2008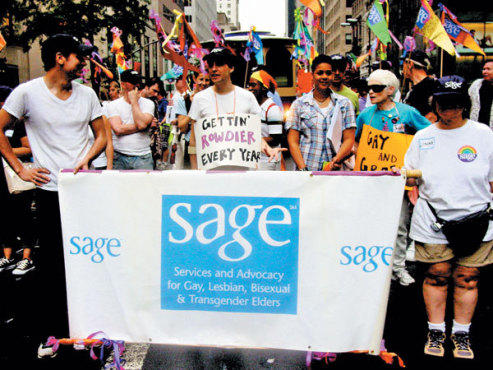 STILL HERE, STILL QUEER The SAGE contingent is always a big hit at Gay Pride. Photo: Gretchen Ludwig
When Jerre Kalbas was 60, she met with a small group of fellow LGBT New Yorkers, also seniors, to form an organization that would focus on the needs of aging gays and lesbians. Chartered in 1977 as SAGE (Senior Action in a Gay Environment, now Services and Advocacy for GLBT Elders), the group will celebrate its 30th anniversary this week with a health fair and party. And Kalbas, now 90 and still an active volunteer with the group, is just one of several thousand dues-paying members who is grateful for—and fiercely proud of—SAGE's existence.
"To be able to have someone there to take care of aging gay people is just wonderful," says Kalbas, a Bronx native and East Village resident who recalls she was carrying her wallet and comb in a paper bag (in lieu of a purse) and working as a chef at the defunct lesbian bar Bonnie & Clyde's when she helped start SAGE. "The hospital always says only family can visit, but when I had my hip replaced, SAGE saw to it that they could be there for me." Kalbas, like many other LGBT seniors, relies on SAGE as if it were family.
"The seniors we work with face the same issues as seniors in general," explains SAGE executive director Michael Adams. "But what's unique is that most of the seniors we work with have no support from their family and no children. They came of age at a time when being gay meant being deeply, deeply stigmatized, which oftentimes meant being cut off or cutting themselves off from their families of origin."
Other unique issues for gay seniors: financial hardships caused by big holes in government safety nets that are strictly for married couples (such as spousal survival benefits); the antigay discrimination and hostility that seniors experience at mainstream senior-service centers; and a basic invisibility in the eyes of young LGBT folks.
"Many people never think about the fact that gay and lesbian seniors even exist," Adams says. "They forget we don't disappear into the ether when we get older. So all of these factors put LGBT seniors in a very tenuous position."
With an aim to change that, SAGE—which has a full-time staff of 30 and several hundred volunteers of all ages—offers a bevy of local programs. It also provides support for similar organizations around the country, including nine affiliated SAGEs in cities including Milwaukee, Chicago and Fort Lauderdale, and provides sensitivity training to staffs at mainstream nursing homes and senior centers.
"The two most important themes in our programs are making sure seniors are not isolated, and making sure they have the help they need for a good quality of life," Adams explains. To that end, SAGE offers more than 100 activities a month, including book and opera clubs, walking tours and painting classes. Its social services department does everything from helping seniors fill out applications for veteran benefits to finding housing or a home-care assistant. Special events include women's dances and this week's 30th Birthday and LGBT Senior Health Fair, which will offer medical screenings, various health-information booths, classes on ballroom dancing and cooking, a performance by the SAGE singers, and, of course, cake and merriment. "It's about health and wellness in the broadest terms," Adams says.
Finally, he adds, SAGE is about bringing together everyone in the gay community, from seniors to very young folks. "We really emphasize the notion that people of all ages in the LGBT community and beyond should honor our seniors," he says.
That certainly happens with the SAGE volunteers—coordinated by staffer Ryan McNamara, who is 28 years old. He says that learning about SAGE four years ago changed his life. "I was embarrassed that I had never thought of this population—that it had never crossed my mind that gay people age," he recalls. "I thought it probably meant that most people don't think about it. And then I thought, This is a population that could really use people's help." He started out as a volunteer and eventually left his job in photography to join the SAGE staff. Now, McNamara says, "I feel like I have 200 gay grandparents."
Befriending so many LGBT folks from various generations has also taught him a lot—including the fact that being out isn't so easy for everyone. "There are some who still look both ways before they enter the LGBT Center [which houses SAGE]. It saddens me, but also amazes me because there is such a place for people to go," he says. Also, McNamara adds, "I've learned a lot about creating community and families of choice. A lot of the men here lost so many people—they built up a community and then had it decimated by AIDS. So I've learned a lot about resilience."
SAGE's 30th Birthday and LGBT Senior Health Fair is Thursday, May 22. See sageusa.org.