Great walks: Punk-rock walk
Punk bands and history come alive on this East Village walking tour.
By Amy Plitt Tue Jul 10 2012
---
Photograph: Courtesy of John Varvatos
New York's East Village may not be the gritty punk haven it was in the 1980s, but there are plenty of badass bars and shops to see today. Tour famous watering holes, including Manitoba's and Continental, and pay homage to CBGB owner Hilly Kristal, GG Allin and other punk legends.
RECOMMENDED: See all Great Walks
Start: Bowery at 2nd St
End: 99 Ave B between 6th and 7th Sts
Time: 2 hours
Distance: 1.1 miles
1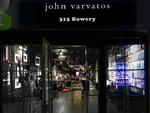 It's impossible to explore New York City's punk history without mentioning CBGB (315 Bowery at Bleecker St, cbgb.com), the legendary club that hosted shows from the likes of the Ramones, Television, the Dead Boys, Bad Brains and more. The venue closed in 2006 (Alan Rickman will soon immortalize late owner Hilly Kristal in the film CBGB), and a John Varvatos store replaced the formerly grotty space. But a tribute to one of the genre's biggest names remains: East 2nd Street off Bowery was renamed Joey Ramone Place in 2003, two years after the singer's death.
2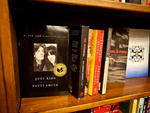 As you walk north along the Bowery and then Third Avenue, you'll pass Continental (25 Third Ave between St. Marks Pl and Stuyvesant St), which opened in 1990 and hosted performances from Iggy Pop, Lenny Kaye and other punk progenitors. Now it's simply a really cheap dive bar—you can get five shots for a ten-spot at any time. Afterward, duck into St. Mark's Bookshop (31 Third Ave at 9th St; 212-260-7853, stmarksbookshop.com), which has been a neighborhood institution since the 1970s. Leaf through the latest issue of punk zine Maximumrocknroll ($4) or look for Patti Smith's memoir Just Kids ($16), which chronicles her early years, many of which were spent in the East Village. (The book is primarily set in Chelsea and Brooklyn.)
3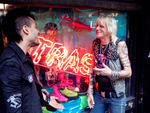 Though you'll mostly see teenage crust-punks and tourists hanging around St. Marks Place these days, the three-block stretch's punk history is storied. It was once home to venues like Coney Island High (where Joey Ramone held a few of his birthday concerts), and notorious rocker GG Allin (who frequently started fights and flung his own feces into crowds during shows) lived in the building that houses the St. Marks Hotel. One vestige of the old St. Marks is still there: Pop into clothing shop Trash and Vaudeville (4 St. Marks Pl between Second and Third Aves; 212-982-3590, trashandvaudeville.com), which opened in 1975 and has been frequented by members of Blondie and the Ramones. (Should you choose, you can chat with buyer Jimmy Webb, at right, to get style advice, or shell out a decidedly unpunk $58 for a pair of black skinny jeans.)
4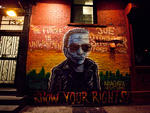 Continue to the end of St. Marks and hang a right onto Avenue A. Outside of Niagara Bar (112 Ave A at 7th St, 212-420-9517), you'll find a colorful mural depicting Joe Strummer, the frontman of the Clash. Street artists Zephyr and Dr. Revolt did the piece in 2003 to commemorate Strummer after his death in 2002, and its creation was documented in a posthumous video for "Redemption Song" by the musician's last band, the Mescaleros. (Fun fact: The clip features cameos from other neighborhood luminaries, including filmmaker Jim Jarmusch and musician Jesse Malin, who owns Niagara.)
5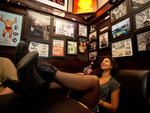 End your trek at Manitoba's (99 Ave B between 6th and 7th Sts; 212-982-2511, manitobas.com). Opened in 1999, the watering hole is owned by "Handsome" Dick Manitoba, lead singer for '70s punk band the Dictators, who immortalized the old 'hood with 2001's "Avenue A." During the lengthy happy hour (every day from 3 to 8pm), you can down pints of Coney Island Lager for a mere $4 each; use your extra cash to play a few songs on the eclectic jukebox, curated by Manitoba himself.
---
Also check out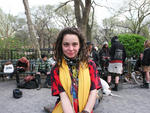 Tompkins Square Park (7th St to 10th St between Aves A and B, nyc.gov/parks) has long been a hangout for young punks, and it's possible that you'll run into a few at one of the free Films in Tompkins series that takes place every summer. For a glimpse of what New York was like during punk's heyday, come for the screening of Spike Lee's 1999 film Summer of Sam (July 19), which takes place during the summer of 1977. Performances by the Debonairs and Brendan O'Hara happen before the movie.
---
You might also like
---