Gregory Cameron, 50
124th St and Lenox Ave
By Time Out editors Thu Feb 26 2009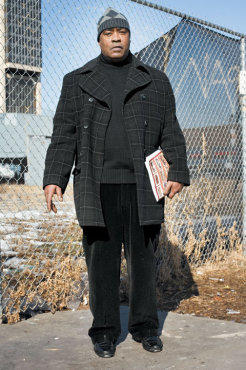 Photograph: Jay Muhlin
What are you up to? I'm coming from doing my taxes. Why they always take my money? They didn't even ask me nicely.
Government's asking for handouts again, huh? [Laughs] Yeah. They're such gangsters.
What do you do? I feed elderly people at a nursing home.
You must see a lot of death. Every day. They always say, "Don't get too close with them." But it's hard—I'd want someone to show me a good time on my last days.
No kidding. Where are you from? Raleigh, North Carolina. Where I was brought up there were no Spanish, no Jamaicans, no Chinese. Just whites and blacks.
And a lot of tension? Yes. White people hated blacks for the color of their skin, but yet they always called on them for service—you know, like, "Till the land" or "Give my baby a titty to suck on." [Laughs]
So do you hate white people? Nah. Not all white people are bad. Like you—you good.
You can just tell? Right off the bat. If your spirit wasn't good you would never be in Harlem.
Are New Yorkers as racist as Southerners were? Sure, they just hide it better. But I prefer those that just come out and call me nigger—I can deal with you. When you hide yourself it's...
Scarier? Yeah. I have to keep my guns on me.
Are you packing? No, no. I just walk with God all the time. That's my power right there.
He must be a fast walker. [Laughs] Oh no. I walk like a turtle. Walk with the grace and not the race.
More from Gregory
"I'm a homebody unless I'm going to a gospel show. They have a beautiful choir at my church, Salem United Methodist Church on 129th Street and Seventh Avenue. They sing almost opera-gospel."
"People call on God when they get the shit scared out of them. They can be atheists or whatever, but their nature is made up with God."
I brought her breakfast every morning— she always liked whole-wheat toast, oatmeal and a cup of coffee. She was 81 years old and a very pleasant lady. One morning I said, 'Every child would like a mother like you.' But at lunchtime the nurse came and told me, 'She passed away.' I was like, 'You're fucking kidding me.' It was so devastating that I had to leave work that day because I had, you know, I just, like, fell in love with her. Yo, that freaked me out so bad."
—Kate Lowenstein