Gurvinder Singh, 19
Lexington Avenue between 43rd and 44th Streets
By Time Out editors Thu Dec 28 2006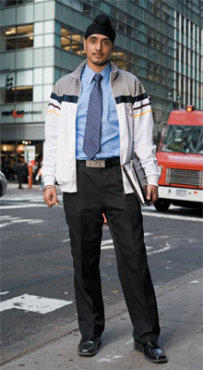 Gurvinder Singh Photograph by Jay Muhlin
"I don't always wear a tie; it's just 'cause I'm going to work today. I'm a big fan of Armani Exchange, which is where the belt is from. The bracelet is part of my religion. Every Sikh guy must wear one."
The AX-obsessed can find this belt for $58 at Armani Exchange (568 Broadway, 212-431-6000).
What are you up to? I'm headed over to school.
Where's that? Berkeley College, on 44th Street. I'm in my second year of studying business management there.
What will you do with that? Start my own business in buying and selling properties. The real-estate market is going to pick up in about a year, I can feel it.
You won't even be out of school then! I'm getting my real-estate license now, though, so I can start working right away.
Where do you live? Forest Hills, Queens.
Can I ask you a personal question? Sure.
How long is your hair? Not that long, a little bit below my shoulders, though it's been growing since I was born.
Someone recently told me that Sikhs and Jews each make up two percent of the world's population. I don't believe that stat. The world must have at least five or six percent Jews...two percent sounds right for Sikhs. Most of us are in Punjab. That's where I'm from.
When did you come to New York? Six years ago, when I was 13. I adjusted to American culture very quickly. The opportunities here are better if you want to be successful.
And I'm getting the impression that you do. Yep. I want to be the next Donald Trump—no, bigger than Trump.
I can hardly conceive of what that might look like. So money equals happiness, huh? Yes. Family and friends are more important than money, though.
What will you do when you make your first million? Buy a Lamborghini.
Awesome. I imagine you'll be doin' it up right on New Year's Eve, then? Well, my birthday is January 1, so we're gonna party. I like to tell people that I have a huge celebration in Times Square every year.—Kate Lowenstein