Howie "Banger" Showalter, 38
35th St and Eighth Ave
By Time Out editors Thu Mar 26 2009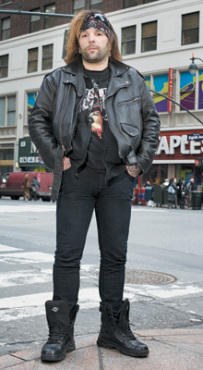 Howie "Banger" Showalter Photograph: Jay Muhlin
Do I dare ask about the name? You can guess. I was sixteen and I was dating a girl named Brenda, who had experience. My friends kept asking, "Howie, didja bang her?" Finally, one day, I was grinnin' from ear to ear, and I put my hands up and was like, "Howie bangerrr!!!" And it stuck.
Aha. I was hoping it had to do with hair metal. Well, that too, actually. Anyway, then I met a girl I dated for ten years. She was Greek. Her name was Paraskeve Eleftheriou.
And then you got the nickname Skeeve? [Laughs] Nah. She went by Vivian.
What are you up to? I'm on my way to Positive Health Project. Those people have been helping me since 1994. They've gotten me out of a lot of jams.
What kind of jams? Oh, well, I was like Nikki Sixx in the The Heroin Diaries. I used to be a drummer. I got into heroin and had a really hard time getting out of it. I've been clean for five years, though, and at Positive Health Project I see a therapist and go to groups. I'm blessed.
Do you still see Paraskeve? No. She was the love of my life. But then I started messing up.
How did you get into heroin? One day the guy who gave me coke, Sammy, gave me two bags. He didn't tell me it was heroin—he said "Here, this is P-funk. After you get close to the end of your coke high, do a little sniff, one in each nostril." And pffft. That was all she wrote. I married that lady.
More from Howie
"I was in a band. We had lotsa names: Virulent Mayhem, Witches of Moodus—that's a little town in Connecticut. Back in 1986, my band opened up for Pantera. That's when we were called Bloodbath. [Laughs]"
"The tight pants? One of the girls at Health Project says, 'Howie, you're the only one who can get away with wearing pants like that.' I'm an '80s dude. That's who I am."
"When I came to New York in 1986, I thought I was in a whole 'nother world. I couldn't believe it. People were smoking joints, walking down the street drinking beers no problem, selling incense on the sidewalk. You'd go to Washington Square Park and buy 100 hits of acid for $100. They used to call them album covers. You could take 'em back to Jersey and sell 'em for, like, $3 to $5 apiece. But I haven't been to Jersey since 1997."
—Kate Lowenstein