Jackie Munro, 21
W 20th St between Tenth and Eleventh Aves.
By Time Out editors Wed Sep 2 2009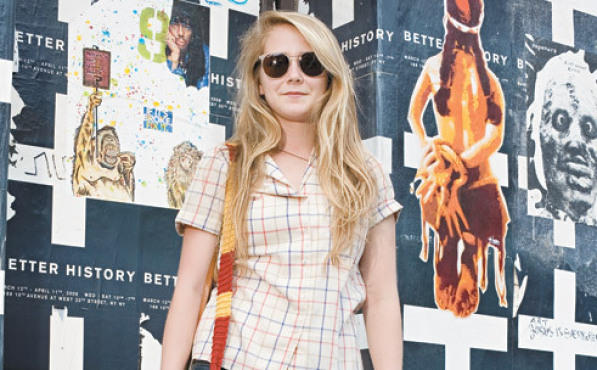 Photograph: Jay Muhlin
Tell me a secret. Uh, okay. Um. I haven't worn socks that were the same color as each other, I think it's been four or five years?
Good one. And today no socks at all. Are those Toms? Yeah.
So some kid somewhere is wearing shoes sponsored by you. Yeah. I dunno, that's weird. It's fine-, but it's not why I bought them.
You mean you don't care about poor barefoot kids? I mean, let's get real. Giving them shoes doesn't solve the problem, you have to teach them to get their own shoes.
So you'd rather buy Toms if they were teaching children how to make shoes. Maybe. [Laughs]
Do you always travel with your camera over your shoulder? No, I rarely do. I just graduated from Tisch—I did photography there—but I'm the kind of person who's always looking for a picture if I have a camera on me—and it's hard to be in the moment like that. So I plan my shooting time and my nonshooting time.
As a recent grad, do you plan on saving the world at all? Yes, in my own way, hopefully I'm doing that: creating a way of looking that's at a different pace.
It's a subtle way to change the world. Yeah. My friend is in the Comoros right now, analyzing local animal populations. She is saving the world. I can't save the world in that way.
But you found your own method. [Laughs] Hopefully.
More from Jackie
"People tend to think I'm between the ages of 14 and 16, typically. I don't mind looking young, but applying for jobs and interviewing, it can get sort of awkward."
"I'm from Pennsylvania—somewhere on the edge of suburban and rural. Well, it's not rural, but visitors from New York tend to think it is. I miss the country. I don't plan on staying in New York past December."
"I take photos of, I guess, modes of transportation. How people move from one place to another, be it by airplane, train or car. I did my thesis on hotel rooms: I went to a bunch of hotels up and down the East Coast and then in the West after people had checked out and before the rooms were cleaned and took pictures."
—Kate Lowenstein