Janean Morris, 24
Ludlow St between Broome and Delancey Sts
By Time Out editors Thu May 21 2009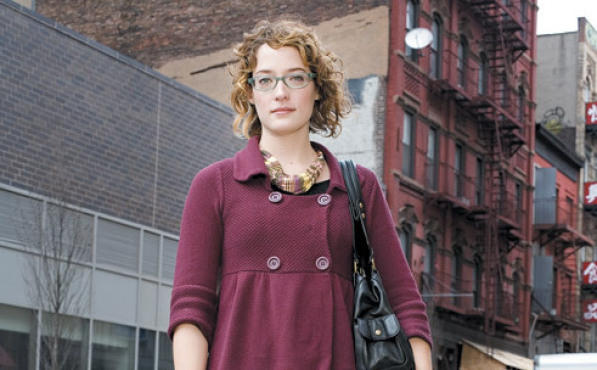 Janeane Morris, 24
Photograph: Jay Muhlin
What are you up to? I'm actually on my way to meet my boyfriend to buy an engagement ring.
Wow, we really stopped you at a once-in-a-lifetime moment. Yeah, totally. This is fantastic!
Do you have a particular kind of ring in mind? Well, yes, we're going to a vintage shop called Doyle and Doyle.
Does it worry you that a secondhand ring might have come out of an unhappy marriage? I've thought about that. But I like the look and I feel like...it's taking on a new life now, you know?
I'll buy that. What do you do? I'm a painter. I'm about to go to grad school at Pratt in the fall.
What do you paint? Realist oil paintings. Recently I've been doing work from my neighborhood, Williamsburg, documenting construction sites.
Do you paint the gentrifiers, too? [Laughs] I've done portraits of me and my friends, but no, I'm interested in what construction of new buildings does to change neighborhoods.
Do you find that you're young for marriage by New York standards? Definitely—I'm one of the first of my friends to be getting married. He's a bit older than me, so that may offset things.
Are you marrying a cradle robber? [Laughs] Nooo. He's 36.
And that doesn't classify him as a cradle robber? No, no! [Laughs] And we've dated for over two years, so there's no cause for alarm.
More from Janean
"Eventually I want to be a working painter and get a professorship somewhere. It's really competitive in New York—I hear it's actually easier to get by as an artist than it is to land a good teaching job."
"It's funny, I've been so busy planning all the little details of the wedding that we've left the most important parts—like who our officiant will be and what we'll say to each other—till later."
"I'm a server at Blue Ribbon Bakery in the West Village. In the 1800s, the building was the neighborhood oven. There's an 18-by-18-foot stone oven in the basement. We bake tons of bread and sell it out to different restaurants and other places. I love it. They feed us well there."
—Kate Lowenstein