Janet Jacobs
74th St between Madison and Park Aves
By Time Out editors Thu Apr 9 2009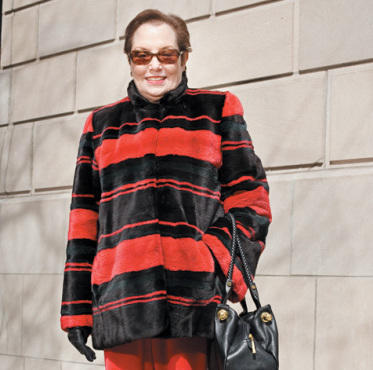 Photograph: Jay Muhlin
What are you up to? I'm going to get my hair done. I have an event at Asia Society tonight.
Sounds like fun. Where are you from? Kenosha, Wisconsin.
So you're a closeted country bumpkin? Yup. [Laughs]
You could have fooled me. No, I'm actually a New Yorker through and through. All us "real" New Yorkers came from Kenosha.
What brought you here? Oh, I was 19. My grandmother had cousins who lived in splendor at the Savoy—where the Apple Store is now. They took me under their wing. They took me to the opera and the Met and Carnegie Hall. They had soirees every Sunday and all the most important people came. I was their Gigi.
Did a man fall for you, la Gigi? Several. [Laughs] I went back home and said, "I'm going to move to New York." I was divorced and had an 11-month-old baby.
At 19? Is that standard in Kenosha? Hardly.
But you still had the balls to pick up and move. I did. I had no idea what I was doing. But you don't have time to hear my whole life story. I'll give you my book.
Sounds like it should be a movie. It's fiction but it's based on my life. It's called Butterfly in Amber and Other Fragments of a Life.
May I ask your age? No.
Fair enough. So do you intend to stay in New York forever? Forever.
No going back to Wisconsin? No going back anywhere for me. I wouldn't go to Florida if you gave me the whole state.
More from Janet
"We also just saw God of Carnage—oh, don't miss it! I never laughed so hard. I really thought I was gonna have an accident. People were just screaming with laughter. How nice, considering what's going on in the world."
"We were invited to the debut of 25-year-old singer Shenyang at Alice Tully Hall. Oh my God, the world is going to hear from this young man. Amazing voice. He is going to be at the Met in the next few weeks."
Janet, on moving to New York at a young age: "I never worried, I never was scared. I was like The Perils of Pauline: The train was going down the track, boom boom boom boom, and was just about to run me down when I was saved—something always saved me. A friend's husband liked to tell a story about how he was waiting on a corner and he saw Janet in a limo passing by—Janet, who he knew had about $100 in the bank. [Laughs] There was this funny man named Chai who had a broken-down limousine. He used to take people to work in the morning! That's how I did it."
—Kate Lowenstein