Jared Seligman
Lafayette St between Astor Place and West 4th Street
By Time Out editors Thu Sep 21 2006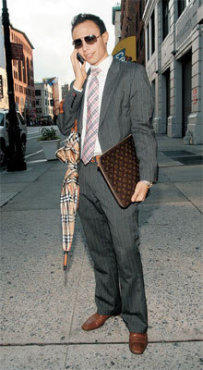 Jared Seligman Photograph by Donald Bowers
How old are you? Um, pass. I was born in the '80s.
You were born in the '80s and you already don't want to share your age? [Laughs] Uh-huh. It's because of my job.
Sounds suspicious. What do you do? I'm a real-estate agent for the Corcoran Group.
Are you always dressed so spiffily? Yes, Monday through Friday in a suit, weekends in jeans—my favorite brand is Tsubi—and a button-down.
Big names all the way...socks and underwear too? Yeah. My socks are Burberry today and my underwear is 2Xist. I never shop at Old Navy or anything like that. Barneys is my go-to store.
Are you from New York City? Born and raised. I've been to every city, and this is my favorite.
What was the last song you downloaded? Something by the Kills. They're good friends of mine.
How much would you pay for a haircut? $200.
Any guilt about spending big bucks on clothes and grooming? I probably should worry more but it's all part of the image. It's funny, I'm very cheap about certain things—like if the cab driver doesn't stop the meter and I have to pay an extra 30 cents when I just spent, like, $1,200 on a T-shirt, like, an hour before.
Where was the last good meal you ate? Mercer Kitchen. I'm on my way there for my third snack of the day. I'll probably have the leek salad.
Tough life, huh? [Laughs] Yep. I'm filled with luxury from the moment I wake until I go to bed. I'm showing multimillion-dollar apartments to very young clients in the entertainment business. So my job is to make sure people don't spend as much money as I do on clothes: Buy the apartment first, and then go shopping.
"This is a Burberry tie. I try to keep it as conservative as possible, but still very fashionable and fun and young—'cause I am young. But I'm never too flashy or eccentric."
Scrimp on undies and splurge on the tie—more people will see it. This one is $125 at Burberry, (131 Spring St, 212-925-9300).— Kate Lowenstein