Jasmine Andrews, 25
The High Line
By Time Out editors Tue Aug 4 2009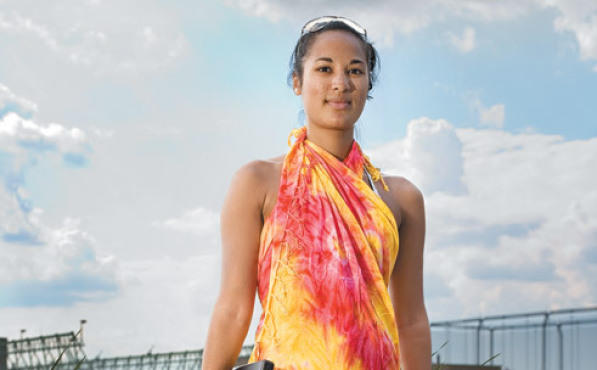 Photograph: Jay Muhlin
Hate to say it, but your accessory really doesn't go with your outfit. [Laughs] I just came up here to do some work so that I could be outside.
By "work" do you mean "sunbathing"? No, work! I just started at a medical technology start-up: My mom is a doctor and she created a device for muscle-pain rehab. I'm helping my brother commercialize it.
Capitalizing on people's pain—great strategy. [Laughs] Yeah. But it's good—being injured is horrible. We take it for granted how much we actually need our bodies.
You must have distractions up here on the High Line. The one thing that happens is that people are really interested in the lounge chair I'm sitting on—it's attached to the train rail. I keep finding myself interrupting my work to demonstrate how the chair moves.
You're like the Vanna White of the High Line. Ha, yeah. I'm here so much that I learn little details about the design from overhearing conversations. Then I'll tell other people. I've found that everyone becomes really friendly up here. Maybe that's just because I keep offering information. [Laughs]
Have you seen the Renegade Cabaret yet? No, but I really want to. It's someone from an adjacent apartment, right?
Yeah, on the fire escape. This place adds a whole new dimension to the city. Someone doing cabaret from their apartment—only in New York would that happen.
More from Jasmine
"I've been to every country in Southeast Asia and north and central Europe. I really enjoy being able to see what exists in the world and trying to mold my viewpoint from as many perspectives as possible. I've chosen to do that over other things."
"I've always had an interest in doing things that are beneficial to a larger set of people. At one point, it was trying to understand development economics, which is why I first went into finance."
"My mom is incredible. She's better to do an interview with than I am: She's from Burma and moved here when she was 25. She was on faculty at UPenn School of Medicine and has worked on trying to understand how the body moves, and how to treat pain. My brother and I both worked in finance, and when she'd taken it all the way sciencewise, we started working with her to make it available to people."
—Kate Lowenstein