Jeffrey Marker, 39
Fifth Ave at 80th St
By Time Out editors Wed Mar 12 2008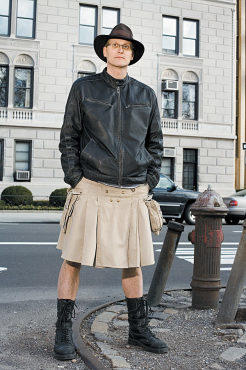 Photograph: Jay Muhlin
This is a new one. Why the skirt?
It's a Utilikilt. I started wearing them for Ultimate Frisbee a year ago—for comfort, and also because it makes me look fast. You know, like a cartoon, when it blows out behind me. [Laughs] Now I wear them almost every day.
I hope you've learned to cross your legs on the subway.
Nope! It hangs down far enough to be okay. Although earlier today I had a subway-grate Marilyn moment. I was holding two hot dogs, so there was nothing I could do to fight it.
Hot dogs? And then there were three, right? You really set me up for that one.
[Laughs] Normally I charge a pint for telling what's under the kilt, but I'll give you special privileges: In World War II, the kilt was part of the Scottish unit's uniforms. They'd say, "It's all about freedom." That's what I say too.
I was afraid of that. What do you do?
Information security for a health-insurance company.
Possibly the last thing I'd expect from a dude in a skirt.
Yeah, except the computer part makes sense, given our poor social skills. I wore the kilt to work twice before being told that if I did it again, I'd be sent home without pay.
Shocker. What do you think about our health-care system?
I work on the Medicare side, which is, you know, not so bad. I'm actually on my wife's insurance plan. She works for Absolut.
Booze and health care—a complementary couple!
Well, you know, red wine is good for your heart. That's the excuse I use.
—Kate Lowenstein
More thoughts from Jeffrey
Photograph: Jay Muhlin
"Every man should have a hat. It gives you something to doff when you hold open the door. This is the Indiana Jones model from TheFedoraStore.com."
"I'm on my way to the Met. I'm originally from Montana, so I'm especially fond of the American wing. I like to look at the Grand Canyon and Yellowstone paintings."
Jeffrey says: "This is a braiding project. It's going to be a cat-o'-eight-tails—as opposed to a cat-o'-nine-tails, which was a device used for punishment in the Navy's sailing-ship days. Why do I make them? Everyone needs a hobby. "