Jennifer "Prissy" Daugherty, 25
5th St at First Ave
By Kate Lowenstein Tue Aug 12 2008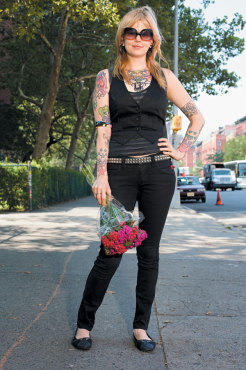 Photograph: Jay Muhlin
Is there any significance to the gas-mask tattoo on your chest?
Tank Girl. I was really into the bombs-nuclear-explosions-army-funky stuff.
Are you a warmonger? [Laughs] No. Gas masks and tanks look cool, but I'm not a fan of war.
Whoa, there's also a naked girl on your shoulder.
Yeah. I wonder what people think when they see it. I have another woman on my leg. They're by a Japanese artist—a lot of her women are topless or completely nude. I'm totally in love with her art; it's got this mix of sexuality and My Little Pony.
Do you get picked up by women?
I never have, but I seem to attract all kinds of different people. My fianc is Japanese—and has no tattoos or piercings.
How'd you meet?
At a Japanese meet-up thing. I was interested in learning the language.
Yeah, right! You were interested in the dudes.
Okay, yeah. I wanted to meet Japanese guys. We've been inseparable ever since.
Naked-girl tattoos and an Asian fetish—you could be a good ol' boy.
[Laughs] It's completely strange. But when I was in school for fashion design I got really turned on to Japanese pop culture and fashion. I was like, those Japanese boys dress so well, they have such nice hair...
Does your fianc feel fetishized?
Maybe. I feel like a fetish tohim too, sometimes.
More thoughts from Jennifer
"I'm a rising junior stylist at Fringe Salon-that's where I'm bringing the flowers. We're just thte nicest bunch of ladies you'll ever find. It's totally down-to-earth and unpretentious."
"I kind of would like to keep it a secret, but Fort Tilden beach is amazing. It's on the Far Rockaways between Rockaway Beach and Breezy Point. It's the cleanest beach I've ever been to in New York. Apparently people go topless there, but one of the, like, five people there when I went was a small child, so I felt like it was a little inappropriate."
"In the last election-the first election I was able to vote in-I was extremely upset. I cried so bad. I've lost numerous people I went to high school with 'cause of the war, and my brother went to Iraq. I was so angry at him for volunteering. He was there almost a year and came out okay. But it's a complete mess over there. I worry if McCain wins, this war will continue for another four years."