Jeremy Helton, 33
Manhattan Ave at Norman Ave, Greenpoint, Brooklyn
By Time Out editors Wed Apr 9 2008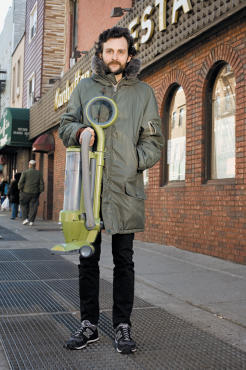 Photograph: Jay Muhlin
Hey! TONY just did a story called "Bringing sexy vac."
[Laughs] This isn't even mine! I'm just borrowing it so I can clean up the sawdust in my apartment.
Why sawdust?
I'm building an installation that incorporates video, sound and deconstructed cereal boxes. My grandmother used to draw herself on the insides of generic raisin-bran boxes.
How high-concept.
I've diverged from her methodology: My friends all seem to only eat high-fiber cereal, so I reached out to friends in the Midwest for their Frosted Flakes boxes.
Man, what's up with all the Kashi-eating New Yorkers? I don't know, I guess we're just really sensitive about our colons. [Laughs]
[Editor's note: It would take 14,150 human colons to span the length of Manhattan.]
So how do you pay the bills?
I work at the Culture Project. We produce screenings and performances that relate to social-justice issues. Right now it's George Packer's Betrayed, which is based on interviews with Iraqi translators from the Green Zone.
That's heavy stuff. Ever find yourself at home with the Frosted Flakes and think, Wait, what am I doing?
My work is personal in nature, but I am really politically interested. I'm considering doing a public-art piece on the similarities between Iraqi refugees and the people of New Orleans.
Do you think art is the best way to address those issues?
I don't think there is a best way. We're inundated with bad news; it's helpful to disseminate information in a way that keeps the topic fresh and not didactic.
More thoughts from Jeremy
"I had a date last night with someone I met at Bembe, a Brazillian, Latin and reggae joint in Williamsburg. This was a friend of afriend, but I'm totally game for meeting perfect strangers at bars."
"My friends joke that every time they see me I look different. This is my Unabomber look."
Jeremy says: "I recently bought a lovely pair of worn-in—I don't like to use the word distressed because that conjures images of bad denim—brown wingtips by Hugo Boss from Bloomingdale's. I hate shopping. I do research about where I can find something, then go to the place, get it and leave. I'm like a heat-seeking missile."
—Kate Lowenstein