Jesse Fischler, 35
Second Ave between 13th and 14th Sts
By Time Out editors Wed Nov 12 2008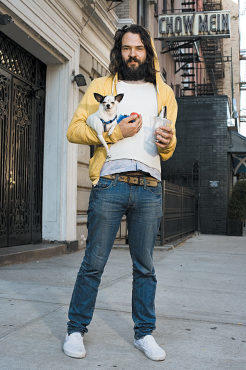 Jesse Fischler
Photograph: Jay Muhlin
Is it just me or do you two look alike? [Laughs] I would like to believe it's just you.
I recently heard the term shit nugget used to refer to a Chihuahua. Meaning what?
Maybe to get at how they're annoying? Though he seems like a charmer. Ha. Well, Angelo charms mostly everybody, but on the street he suffers from a Napoleon complex: He totally has to be the dominant guy.
Sounds like a losing battle. Where are you from? I grew up in Coney Island. My Jewish grandparents were right across the street from the Cyclone. Farther down, there were big buildings with bulletproof glass in the lobbies. My Italian grandparents were there.
Jew, Italian, Coney: You're so old-school New York. Yeah, it's interesting: Since I moved to Manhattan I've been surrounded by people from other places. It's amazing to live where you're from and have worldwide friends.
Do you think living here allows us to postpone adulthood? Well, space is so precious here that when you go home you just want to keep people out of your house.
So it makes you a loner? It may just be in my nature, but New York definitely is my best...
Friend? I didn't want to say that [Laughs] but it's so completely compatible, it is like a friend. I could walk anywhere by myself and not miss anybody.
I think Angelo's getting jealous. [Laughs] Get outta here. Don't pull my leg.
More from Jesse
"My dad, who was a taxi driver, sold all his 8-tracks on the side of the Belt Parkway in order to raise enough money to pay for his marriage license in City Hall. It's one of his famous taxicab stories. He was a big music lover."
"No white after Labor Day? Are you serious? I didn't even know that was a rule. If there are rules, you should break them. Fuck that."
"I'm the tour manager for some bands, including Bonnie Prince Billy. I always feel like I'm gonna have a nervous breakdown. We did a European tour this summer. We did 16 countries in 30 days. It was badass. I had to make sure everyone got from, like, Italy to Albania to Macedonia, you know, in a van and by boat and plane—and all on time. It's very masochistic."
--Kate Lowenstein