Joe Merrigan
Bedford Avenue and North 8th Street, Williamsburg
By Time Out editors Thu Jan 25 2007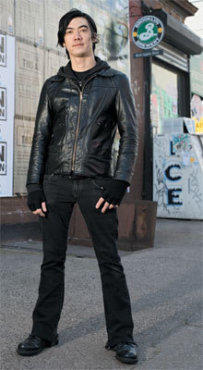 Joe Merrigan Photograph by Jay Muhlin
"My girlfriend works for a pretty famous fashion designer. She's been supplying me with some good clothes...none of which I'm wearing right now."
What are you up to? I just woke up. I'm trying to make some rehearsal plans for tonight.
What kind of rehearsal? I play bass in a band called the Crash Moderns.... Hey, can you print that?
Uh, sure. Tell me—and our attentive, concert-attending readers—more about it. It's modern pop music in the vein of the Cars and Elvis Costello. It's a five-piece band...the Crash Moderns.
Right, got it. So is business a little slow? Not too bad. We—my band, ahem, the Crash Moderns—are trying to get on tour and get a record label.
How old are you? How old do I look?
Not too old to disclose your age. Put it this way—I want to keep my options open.
Your girlfriend will love that. So anyway...do you hold down a day job? I play bass for hire for four other outfits right now.
Sounds busy. Yeah, but I get to sleep late and have my "morning" coffee at three in the afternoon, so that works out well. It's kind of tough being me, though.
How come? Well, when you've been pursuing something for quite a few years you just wonder when you're gonna get "the big gig."
Would you say you have the stereotypical bass player personality? Absolutely. I'm the mediator in every situation, never the big ego or anything. I try to stay out of the spotlight as much as possible.
Except when you get to publicize in "Public eye." That band name again? The Crash Moderns. You can check us out at myspace.com/thecrashmoderns. — Kate Lowenstein