Jordan Robin, 18
Union Square
By Time Out editors Thu Apr 19 2007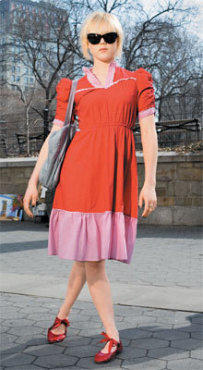 Jordan Robin Photograph by Jay Muhlin
"I'm into the big-girl-dressing-like-a-little-girl look. I got this dress at a place in Silver Lake. It was on the $5 rack, and I didn't even have to alter it."
What are you up to? I'm going to get my morning coffee from Coffee Shop.
No love for the health department, huh? I don't know what you're talking about.
It didn't pass their inspection a while back. Are you serious? Oh my God.
I didn't just break your Coffee Shop habit, did I? Yes, you did! Actually, wait—no. I love their mac and cheese.
Where are you from? Honolulu and L.A.
You must be a big investor in SPF. [Laughs] Yeah, I'm superpale and I burn.
What do you do? I'm a freshman at NYU Gallatin.
Are you majoring in, like, a gazillion different things? [Laughs] Yes. I'm doing alternative cultures, arts publications, music and creative writing. I want to start a culture-based arts publication.
We sure don't have enough of those in this city. Well, I'm interested in publications that play with the medium, like Visionaire—which does a lot of issues that are in boxes, where the magazine itself is a box of objects. Or Aspen, from the '60s, which would record articles and publish them on vinyl, or include a ticket to something in the box.
Sounds cool but expensive—ever worry about that being elitist? Visionaire preaches that the avant-garde is where the underground and the elite collide, so I think it's for both ends of the spectrum. It might be a bit pretentious, but so are a lot of things.
Do you always aspire to look like a modern-day Strawberry Shortcake? [Laughs] No! When it's warm out I pull out all my rockabilly dresses. You caught me on one of those days.—Kate Lowenstein