Josh Kanuck, 27
Elizabeth St between Houston and Prince Sts
By Time Out editors Thu Jun 22 2006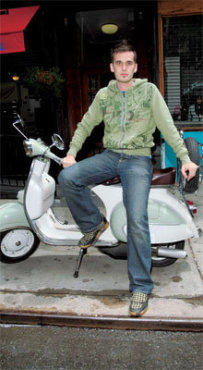 Josh Kanuck, 27 Photograph by Donald Bowers
LOITERING? "No, installing new chrome on my Vespa. I ride it to work every day. It's a 1963—it took six months to restore."
OCCUPATION: Editor on A&E tattoo-obsessed reality-TV show Inked
WEIRDEST EPISODE: "A girl comes in and gets a tattoo on her vulva that says hit it like a champ. Well, not her vulva. Somewhere in that area."
TATTOOS: "None. Though I'm considering it. I'd get something artful—no Calvin and Hobbes cartoons or anything."
THE LOOK: "Having a vintage bike, you need a lot of pockets at all times to hold tools and screws. So form follows function when it comes to style."
"I bought this sweatshirt for all the pockets—outer pockets, inner pockets, hidden pockets. Also, it's got layered images of pinup girls and other tattoo designs. I didn't notice that until after I bought it but I think it's cool."
Pocket some duds of your own at Triple 5 Soul (290 Lafayette St), where hoodies start at $60.
"My haircut's from Brandon Dailey at Mudhoney. TONY interviewed him a while ago, and I decided to get one from him. I grow facial hair every other month or so. I'll shave it all off or change it up to keep things interesting—and to have something to play with at work."
Consult the experts at Mudhoney (7 Bond St), where men's 'dos are $75.
"These are Worn Again shoes. They're 99 percent recycled—made of parachutes, old men's suits and car seats." I've been very happy with them. People either really love them or think they're hideous."
Recycling is the law: Get your shoes in line at United Nude (260 Elizabeth St), where Worn Agains are $120.
"My jeans are straight-up Rock & Republic."
Straight-up R&R straight-legs can be found at Atrium (644 Broadway) from $250.
--Market editor Kristina Dechter, edited by Kate Lowenstein