Junghyun Josh Ko, 18
E 25th St at Lexington Ave.
By Kate Lowenstein Tue Oct 19 2010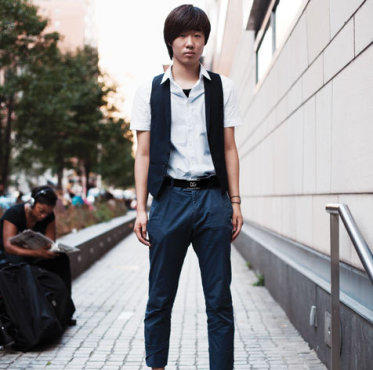 Photograph: Allison Michael Orenstein
What are you up to? I'm going to class. I'm a freshman at SVA.
Where are you from? Seoul, South Korea, but I've lived in the U.S. for the past three years—first in Michigan, then in Chicago, now here.
So who's more ignorant about Korean culture, Midwesterners or New Yorkers? Honestly, I really did not have any hard time with having cultural differences. Michigan was actually my best place. I went to one of the arts boarding schools, called Interlochen Arts Academy. It's really similar to New York because there are many people from other countries and the U.S. in one school.
I'm going to guess you're...a fashion major. No, I'm studying advertising. I'm also really interested in reading fashion magazines and dancing.
What kind of dance? Like, hip-hop dancing. I had a dance crew in high school. They were dance majors who were kind of sick of ballet dance, but they wanted to have a little extra hobby.
Just like in Save the Last Dance! I didn't see that one. But I saw Billy Elliot and Step Up 1, 2 and 3. In those movies, there was, like, a bunch of people saying that having no money doesn't bother them if they have dance. I was like, How can they love dance that much? I was shocked by that. After I saw that movie I realized I wasn't that into dance.
So Step Up guided your career choice. [Laughs] Yeah. I guess it did.
More from Josh
"I picked the name Josh when I first got to the U.S. My friend recommended it to me. Josh is a really normal English name, but when I add my last name with it, people say it's less common. Everyone calls me Josh Ko."
"I never had professional dance training. I just learned by myself from YouTube, which is a really good source. [Laughs]"
"In my high school there was a performance celebration called Coffeehouse, which is so that people can show their talents every weekend. One time I went there and performed, and people voted me as Best Coffeehouse. So I performed at one of the auditoriums and, like, every person in the school was there. I was really nervous, but it went really well. That was like six months ago."