Kat O'Sullivan, 31
E 8th St between Third and Fourth Aves
By Kate Lowenstein Thu Oct 25 2007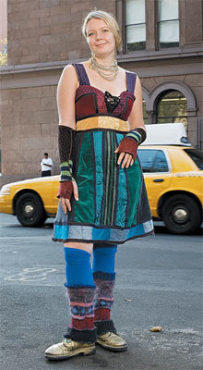 "These shoes have been around the world and sewn together by cobblers on every continent. Once, they had a colony of Amazonian bugs living in them. They were finally just so crappy that I decided to hit 'em with a layer of gold spray paint. Now I get a do Photo: Jay Muhlin
Do you get stereotyped a lot with a name like that?
I'm such a freak in other ways that my Irishness doesn't get discussed.
A freak?
For being a gypsy girl and traveling for so many years.
Where have you been?
Probably to about 80 countries—Africa, Asia, South America... My favorite place is Baos, Ecuador.
Is it the natural spring baths that calm you?
[Laughs] You mean the urine baths with the floating fingernails in them? If you go early in the day, they're nice. After about 10am, they start smelling like pee.
How do you finance such travels?
I don't have many other expenses—I live in a school bus, I don't have fancy possessions. I hitchhike.
Didn't your mother tell you not to do that?!?
[Laughs] Everyone says it's so dangerous, but I've been doing it for 15 years, gotten thousands of rides, and none have been bad.
I'm knocking on wood for you. Is the hitchhiking-thumb thing universal?
No! Sometimes you have to pump your thumb, sometimes you have to hold it low down. In the Sahara, where there aren't many cars, you have to just stand in the middle of the road and wave your arms till you confuse them enough to stop.
Do you work?
I make clothes like the ones I'm wearing and sell them on Astor Place four months a year.
And while you're traveling?
I offer to paint murals for hotels and then stay for free. Other times, I'll work at orphanages or hospitals. I worked for Mother Teresa in Calcutta.
Really? Did she look like the cinnamon bun?
[Laughs] That thing does look just like her! She was kind of shriveled and raisiny.