Keith Phillips, 43 (?)
Elizabeth St between E Houston and Prince Sts
By Time Out editors Thu Sep 20 2007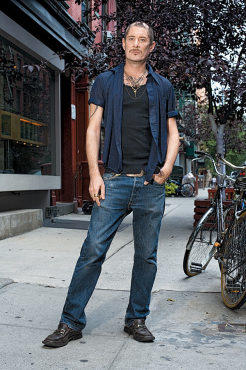 Keith Phillips
Photograph by Jay Muhlin
You know, from afar I thought you had shaved yourself a funky hairdo. Now I'm not so sure. Yeah, it's alopecia.
You wear it well! I have no other choice—I have to own it. I decided I was going to make alopecia hot for the summer. [Laughs] But my hair is actually growing back now.
Maybe you should look into the possibility of shaved polka dots, even when you have all your hair. [Laughs] Yeah, maybe. Tons of people thought I'd done it on purpose.
What do you do? I've been designing jewelry since I was 19. Stuff that you could put on your coffee table, but that you can also wear. Like belt buckles the size of a thin brick with roaches on it, and old-school rings that fit on three fingers...
Did you say roaches? Is that some bad New York City humor? See, I ordered 140 brass roaches from this company that sells them in bulk. I've had them for years.
How old are you? God, I think I'm 43.
You think? Well, I was telling everyone I was 48 for so many years.
Why? I think if you're gonna lie about your age, you should lie up. Because then everyone is like, 'Oh wow, you look great for your age!' Whereas if you make yourself younger, everyone is like, 'He looks like shit.'
It's a good point. So why did you stop lying? Because I was 48 for a really long time, and logically I'd be hitting 50 soon...and I don't think people would believe that. So I'm saying 43 now. Next year I'll probably start saying 45 or 46.
Well, you look great for your age. Thank you! And I am 43, you know. I'm pretty sure.--Kate Lowenstein