Kellian Delice, 17
24th St between Park and Lexington Aves.
By Kate Lowenstein Mon Sep 13 2010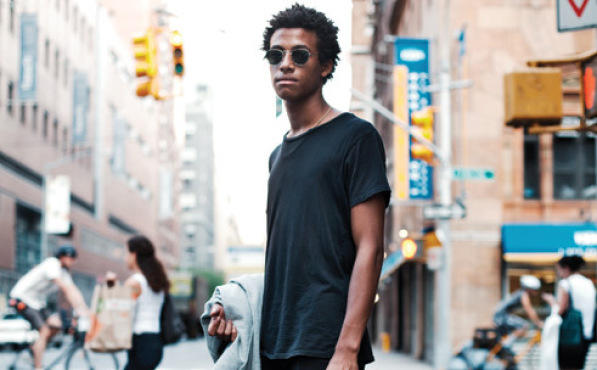 Kellian Delice, 17 24th St between Park and Lexington Aves Photograph by Allison Michael Orenstein
Photograph: Allison Michael Orenstein
Where are you from? I was born in Italy but I came here when I was one.
Do you feel Italian? I don't feel American. I feel more Haitian and Italian—my mom's from Italy and my dad's from Haiti. I mean, like, everything is a little more, I don't want to say sophisticated...but everything is better quality in Italy and Europe in general.
I know what you mean, but isn't Italy still a little racist? Yeah, of course. In a lot of social aspects, things are better here than they are in Italy. But it's more like they're ignorant. They just don't deal with as many people from outside places.
Where do you go to school? NEST+m high school on the Lower East Side. It stands for New Explorations into Science, Technology and Math. I'm a senior.
So are you all math nerds? Not at all. They gave it a really sophisticated name just to make themselves sound important because they're not one of those special schools, like Stuyvesant or something.
What did you do this summer? I had an internship with a photographer who does nudes. We were just kinda filing photos and archiving, and doing stuff like that.
Awesome, so you got to look at naked people all day. Yeah, but I'm kinda used to it. It's not anything surprising to me to see a naked body.
Man, you're so jaded at the tender age of 17. [Laughs] Yeah.
More from Kellian
"We lived on Spring Street and Lafayette when I was really little, after we came back from Italy, and I started going to school in Chinatown."
"My dad has a men's clothing line called Ron & Ron, and my mom manages restaurants like Balthazar and Pastis."
"I'm into the arts. Like, I paint from time to time, I tried sculpting for a while, I do photography. I love music, film and just, like, a lot of things. I'm influenced by my parents. My dad is a designer, so I guess that has an effect on me, and my mom is really big on photography and art and stuff. My brother has his own group with his friends—they rap and produce music. And so do a lot of my cousins. It's just an all-around artistically embracing family."