Kings of New York: Amateur MMA tournament comes to NYC
Watch these mixed-martial-arts fighters kick butt at the Kings of New York MMA tournament on Sat 23.
By Sarah Theeboom Wed Mar 20 2013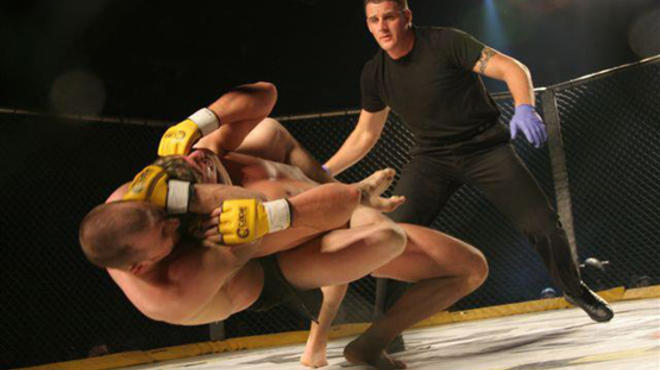 Kings of New York Photograph courtesy Fighters Source
This weekend, Fighters Source and the USA MMA KI Federation present Kings of New York—the state's first large-scale, sanctioned amateur MMA tournament—giving spectators a chance to see 50 hopefuls roundhouse kick their way into an upcoming national contest. We chatted with some of the competitors about their training, background and fave kung fu flicks.
Ashley Miller

27; word processor at a law firm, Upper East Side

How she got into MMA: "My boyfriend is a cage fighter, and he wanted to work on his cardio. Krav Maga is really good for fitness and cardio, so I also fell into it. I've been doing Krav Maga for about two years [at the Krav Maga Academy (25 W 26th St between Broadway and Sixth Ave; 212-213-3196, kravmagasolutions.com)], MMA for about a year."
Her last fight: "I fought on the 22nd of February and I TKO'd in 21 seconds in the first round. A TKO is a technical knockout; [my opponent's] knees buckled and the ref jumped in for her safety. That was my second fight."
Her follow-up: "I hugged her. And she hugged me back. Even though we were in there trying to hurt each other, we still respect one another."
Her favorite fighting movie: "I love Jet Li, so everything he's in is pretty much a favorite of mine." Watch Jet Li now on Netflix
Photograph: Noffar Gat
Kings of New York: Ashley Miller
Christian DeFiris

32; amateur fighter and head instructor at BC BJJ Mixed Martial Arts Academy (176 Merrick Road, Lynbrook, L.I.; 516-341-7555, bcbjjma.org); Lynbrook, Long Island

How he got into MMA: "My father was a boxer, and my stepfather is a Brazilian jujitsu black belt, so I've been exposed to mixed martial arts for almost 2 years. It's been my full-time career for the last five."
His training schedule: "My day starts at 10am, and it ends at 10 or 10:30pm. At four o'clock, I teach my kids' program—I call them 'the little ninjas.' They're four to nine years old. They are adorable, but they drain me even more than two hours of sparring. My day off is Sunday: I go to church, hang out with my family, see my friends, my mom. I'm a little bit of a mama's boy."
The worst injury he's ever inflicted in the ring: "I broke someone's arm. I put him in a submission hold, and he didn't want to tap out, so I turned my hip and snapped his arm in half."
The worst injury he's ever sustained in the ring: "My first Muay Thai fight, I got my nose broken in the first round with a flying knee. I fought two more rounds with a broken nose and won the fight."
His favorite fighting movie: "I love all the Bruce Lee movies and all the Van Damme movies. Enter the Dragon, of course, Bloodsport, Kickboxer and Ip Man. Ip Man is the greatest." Watch Ip Man now on Netflix
Photograph: Noffar Gat
Kings of New York: Christian DeFiris
Diego Lopez

25; server at Blossom and martial-arts teacher at Williamsburg Mixed Martial Arts Academy (42A Dobbin Street, Williamsburg, Brooklyn; 718-916-7492, williamsburgbjj.com); Greenpoint, Brooklyn

Why he likes MMA: "I like how it's not only physically difficult but mentally demanding. It's how much you can push yourself in training but also how well you can incorporate your game plan, dissect your opponent—how they fight, their tendencies—and take advantage of their habits. Being able to do everything correctly while staying calm is very interesting to me."
How fighting has changed him: "I used to be kind of a smart-ass. Martial arts is really humbling, especially Brazilian jujitsu. You get tossed around, beat up, choked, submitted, arm-barred by people that are smaller than you, older than you, weaker than you. It's a very humbling experience."
His training diet: "I'm vegan; I've been vegan for four years, vegetarian for three years prior. When I'm training I just cut down on gluten and eat lots of greens, like spinach, Swiss chard, kale, bok choy. Also a lot of nuts and seeds—hemp, chia and flax. Brazil nuts are a must."
His favorite fighting movie: "Choke, The Foot Fist Way and Renzo Gracie: Legacy."
Photograph: Noffar Gat
Kings of New York: Diego Lopez
Sebastian Roche

20; delivery boy for Burrito Mariachi; Belmore, Long Island

How he got into MMA: "I was really unathletic in high school; I played a lot of video games. Then I played UFC 2009 and was just like, This is the shit. I would be wrestling my friends in the backyard, but I would lose every time. So I was like, 'I'm going to join a gym and I'm going to kick all you guys' asses.'"
Why he likes it: "It lets me be aggressive and take all my anger out without looking like a sadistic asshole. And I'm a completely different person. I wasn't a confident kid, I would give up easily, I didn't have much determination for anything in life. Fighting changed that."
How he winds down: "I usually go to a party after fights. I don't party much while I'm training, so after a fight it feels good to drink some beer and smoke some weed. But after this fight, I'll probably just go home and go to sleep."
His favorite fighting movie: Anything by "Quentin Tarantino is dope. If you consider Kill Bill a fighting movie, I guess that." Watch Quentin Tarantino films now on Netflix
Photograph: Noffar Gat
Kings of New York: Sebastian Roche
Viktoria Makarova

28; financial planner; Midwood, Brooklyn

How she got into MMA: "I started at the Krav Maga Academy (25 W 26th St between Broadway and Sixth Ave; 212-213-3196, kravmagasolutions.com). Krav Maga is mostly self-defense, but it's pretty much the same as MMA—just a different set of rules."
Why she likes it: "Besides giving me a great shape and great abs and everything else, it's a sort of self-expression. Whatever is going on in your life, you just go to the gym and get everything out. For stress, it's the best cure."
Her training schedule: "Five, six days a week. We usually come after work for three to four hours. It's a commitment."
Her favorite fighting movie: "Rocky."
Photograph: Noffar Gat
Kings of New York: Viktoria Makarova
---