Latarsha Rose
Avenue A between 8th and 9th Streets
By Time Out editors Thu Feb 1 2007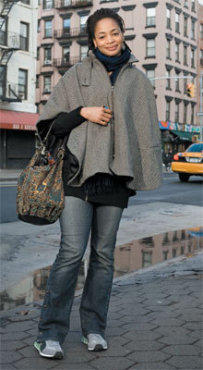 Latarsha Rose Photograph by Jay Muhlin
"I got this shawl in a little shop on East 8th Street. It reminds me of something my mom had when she sewed her own clothing. When she saw it, she said, 'Ooh, that's fabulous!' I'm a sneakers girl, but this is the year of the dresses—I'm planning on looking more ladylike."
Waiting for the bus? Yep, I'm going uptown to see some friends.
No sign of one—I guess you're not in a hurry. [Laughs] I'm not. But I take the bus a lot. I like watching the city go by.
Are you a dancer? How'd you know?
I can tell by the way you're standing—toes out. I used to dance; I'm just getting back into it.
How old are you? Do I have to say?
Why don't you want to? I don't think it matters.
Okay! Onto to something that does, then. Where is your name from? When my parents lived in Sheepshead Bay; they were really close to an old Russian couple, the Tarshas. And my mother added the La.
What do you do to pay the bills? I'm an actress.
And it pays the bills? You must be successful. I've been really fortunate.
Anything we'd recognize you from? I was on the original Law & Order, Law & Order: SVU, CSI: NY and Guiding Light for a few episodes. And I do NYC TV stuff.
What was the best experience so far? I got to work with Jerry Orbach—before he passed—and Jesse Martin on my first Law & Order. It was awesome. But my greatest moment was when I earned my health benefits for the first time.
How very practical. Well, that's the normal part of the pursuit. I mean, it's really about feeding yourself, right? As long as I can do that and stay on the path of my dreams, then...cool.—Kate Lowenstein