Life studies
A new generation of knowledge- and skill-sharing networks lets nonacademics impart their wisdom and expertise in just about anything.
By Allison Williams Thu Aug 4 2011
---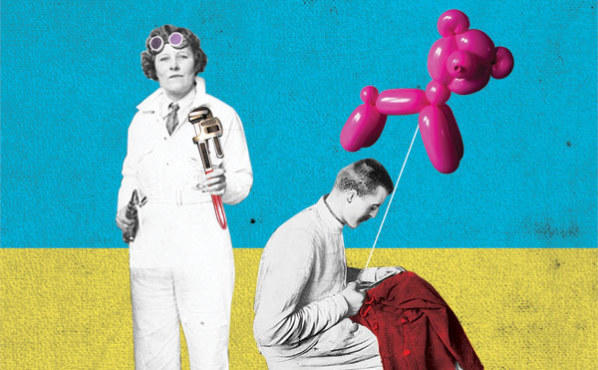 Illustration: Kathryn Brazier
Reading, writing, 'rithmetic: You learned all those subjects back in school, but when did someone sit you down and tell you how to program a video game or be a good houseguest? In an increasingly do-it-yourself culture and with a surfeit of job seekers and career changers, several informal-education centers with a democratic approach to the learning process have popped up in the city, including the Brooklyn Brainery (brooklynbrainery.com) and 3rd Ward (3rdward.com). Some don't even have fixed addresses, but migrate to spaces as they become available. Not only are classes far more affordable than at old-school institutions (they can cost as little as $10), just about anyone can teach a class in such unconventional subjects as how to care for your clothes or even look good dancing.
LifeLabs New York

You know New Yorkers—we can't just learn something new, we need to do something new. Dr. LeeAnn Renninger has created a series of courses called LifeLabs New York (lifelabsnewyork.com) that feed "a real hunger for collecting experiences." It's what keeps students flocking to classes in subjects like talking, coolness and the art of surprise.
Renninger studied interpersonal perception—how people learn info—to earn her Ph.D. from the University of Vienna in Austria. Back stateside, she figured that citygoers had their brains frozen by the information overload: "New Yorkers put blinders on because there's so much out there. As people who live in cities, we need to break through and feel enlivened."
Eight years later, LifeLabs hosts ongoing classes for a mostly 25-to-45-year-old clientele. Renninger and her advisory body of teachers, the Council, develop subjects that you were never explicitly taught in high school but were supposed to have picked up on your own: how to behave in conversation, how to ooze charisma. Practical skills complement general goals; in one popular class about pop-up cards, students take scissors to paper to create fun 3-D crafts while a researcher lectures about how to deal with new things that pop up in your path in life. In other LifeLabs courses, Renninger and company are teaching how to walk in heels, even how to shop—all while imparting larger sociological principles and theories.
In 2.5-hour and full-day sessions at an East Village theater lab or Chelsea seminar center, students get out of their chairs and into a social, active experience—Renninger requires activity at least every 12 minutes. "People discover things themselves, in a really rowdy and fun way," says Renninger. It's like recess and class all in one.
Take this class: A whole class about learning how to talk? In the popular "Yapper Lab," Renninger harnesses what she learned about imparting information, and helps you do important stuff—like talk your way out of a speeding ticket. Theater Lab, studio A, 137 W 14th St between Sixth and Seventh Aves * NYC Seminar Center, 71 W 23rd St between Fifth and Sixth Aves * Date TBA; $40.
Trade School

If you're fed up with snowballing tuition costs, try paying for a class with a hunk of cheese. Caroline Woolard and her fellow cofounders of Trade School (tradeschool.ourgoods.org) never did think much of costly education; they met at the Cooper Union, a school that's free for all its degree-seeking students. The trio of artists started a website called OurGoods (ourgoods.org) that helped fellow creative types barter with each other. From that grew a cashless school of their own, Trade School, started in 2010.
Semesters are about as free-form as the tuition; for as long as the founders can secure a space, they host day after day of classes. In spring 2011, a two-and-a-half month session had two to five classes per day, with five to 50 people in each; Woolard guesses that more than 2,500 came through their temporary space in Essex Market.
The line between faculty and student body is a blurry one; the program counts on the students of one week to propose courses and become the teachers the next. "We don't want to figure out the programming far in advance before we open," says Woolard. She couldn't predict, for example, that spring's offerings would end up including a balloon-animal tutorial and a workshop on apartment squatting. Teachers set the nonmoney price for their courses, asking for food ("a bag of oranges"), trade ("PR/press for my start-up") or even fuzzy acts of goodwill ("promise to explore your local Greenmarket at least once in April"). The founders will open Trade School whenever they find a space to hold it; the next session will be in early 2012, if not sooner. They're also looking to develop open-source software that will take their model to cities around the world.
Take this class: What happens when a plumber-turned-artist-turned-philosophy-professor at Brooklyn College discovers Trade School? He puts on a "Philosophy of Plumbing" class that explores both practical pipe-handling techniques and Kierkegaard. Location and date TBA.
Skillshare

The newest player on the learning-for-all frontier in New York City isn't afraid to get a little technical. The Skillshare platform, launched in April by Michael Karnjanaprakorn and Malcolm Ong, includes classes on specific computer-programming systems alongside classes on sneaker appreciation.
"Our goal is to democratize learning," says Ong, himself a former programmer. The idea came when Karnjanaprakorn, fresh off the World Poker Tour, started informally teaching friends the card skills he'd picked up. Approaching learning as a start-up, the pair drummed up investors and a website (skillshare.com).
Despite their tech savvy, they believe in face-to-face education. "Sure, you might be able to learn from a book or online video, but we feel like your city is your best university," says Ong. "Your neighbors and friends are your best teachers." The model for this educational endeavor isn't Harvard or Yale—it's eBay. A strong feedback loop of reviews shows which teachers are popular, like the PowerSellers on the auction site. Ong and his cohorts teach a handful of classes at spaces around the city, but eventually the site will mostly feature other, unrelated teachers using the organization's scheduling and payment system. Already, a local chef held an instructional food walk in Chinatown, and the owner of a relocation-advice website offered a class on how Americans can move to Australia.
Unsurprisingly, there's a social aspect to much of what the site has hosted thus far. "We're one third lecture, one third interactive activity and one third networking," says Ong. More than anything else, he says, "You are learning something and leaving with something valuable."
Take this class: "Give your mama a break," says Ingrid Kenyon of her Skillshare class, "A Beginner's Guide to Clothing Quick-Fixes." A tutorial on fixing garment tears and reattaching buttons, led by a woman with a degree in apparel and textiles, it's everything you never learned when your school district cut home ec. Skillshare HQ, 407 Broome St between Centre and Lafayette Sts, fifth floor. Aug 24 7--8:30pm; $12.