Lindsay Duckworth, 26
Carmine St at Bedford St.
By Kate Lowenstein Wed Dec 30 2009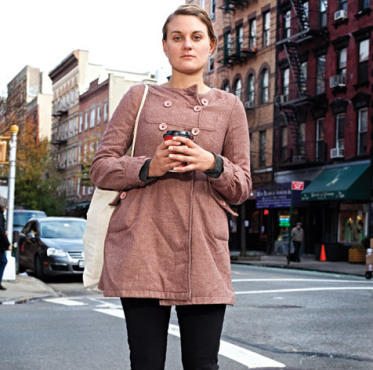 Lindsay Duckworth, 26, Carmine St at Bedford St Photograph: Jay Muhlin
Photograph: Jay Muhlin
Where are you from? Montana. I grew up in Polson, but most recently I was living in Whitefish. You know, south of Glacier.
White fish south of glacier. That's like saying, "pigeon south of subway." [Laughs] Glacier National Park! Before I moved here a month ago, I was in Alaska at a fly-fishing lodge—a really remote, fly-in place. No one there.
Except you and a bunch of hot fly-fishers? [Laughs] Not so much. It was all, like, 55-year-old alcoholics.
I guess I was picturing Brad Pitt. Exactly. That was my parents' dream. I grew up in a fly-fishing family. They were so excited for me to meet some rugged, outdoorsy man. But nope, I failed.
So you came to New York to find your rugged man. Oh no no no no no no. I've given up on that idea for a while.
What does the city look like to your fresh eyes? Well, it's basically just like any other city.
I beg your pardon. [Laughs] I mean, there's so many places to go, but it's all the same scene.
That's how I'd feel about the mountains in Montana. [Laughs] Yeah. I just haven't felt like it's been all that difficult to live here.
Kinda like, say, living in Missoula? Well, okay, it's different from Missoula. But I live in Williamsburg, so sometimes it feels like... Missoula.
All those men in lumberjack shirts. Yeah! They're the same here, except 80 pounds lighter.
More from Lindsay
"I work at Sweet Revenge. The owner, Marlo, worked for some big, corporate business and then just started baking a year and a half ago. She pairs her cupcakes with wine and beer."
"When I was in Alaska, I met a ton of people from New York—big-time restaurant owners and stuff. It's, like, their hobby. Fly-fishing is not like in A River Runs Through It, like everyone thinks. It's a very elitist, strange culture."
"I grew up on an Indian reservation. It's tribal land, but we actually own it—there are a ton of loopholes in the law. It's a really weird town; it was really tense growing up in school and stuff. There are middle-class white kids and then kids from the reservation—which is very poor—and we all went to the same school."