Lindsay Feldman, 19
University Pl and 13th St
By Time Out editors Thu Jan 18 2007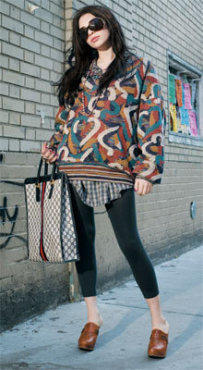 Lindsay Feldman Photograph by Jay Muhlin
"I used to work for a celebrity stylist, but I decided that I wanted to enjoy fashion without being too involved in it. These are vintage high-heeled clogs from Atomic Passion in the East Village."
Atomic Passion (430 E 9th St, 212-533-0718) has vintage clogs from $85.
What do you do? I'm a photography student at Pratt.
What are you up to? I'm on my way to a date. I'm gonna eat a great meal.
Do you always let the guy pay? Yeah. I tried to pay once, but my card got declined. We were charging a bottle of wine and I was like, "No, let me get this!" But I'd gone shopping at Stella McCartney a couple days before....
If you don't like the guy and you know he'll never get to see you again, do you still let him pay? Yes. [Laughs] Is that mean? If somebody's willing to pay for me, by all means...
Poor bastards. If they really can't afford it, I'll pay. But the guys I've been going out with lately can afford it. I kind of want to meet a starving artist, though. Maybe he'll come looking for me after you publish this.
Are there things you won't do on the first date? It depends on if he's cute or ugly. If he's a good guy and attractive...yes, I've been there. Every girl has been there on the first date.
Been where? [Laughs] My family's gonna read this!
Okay, let's make this tame, then. How do you feel about Jell-O? Jell-O?! [Laughs] I love Jell-O.
And Bill Cosby? That's a random question.
I was inspired by your sweater. It's vintage Missoni, if you must know. —Kate Lowenstein