Lisa Brescia
47th St between Seventh and Eighth Aves
By Time Out editors Thu Jul 5 2007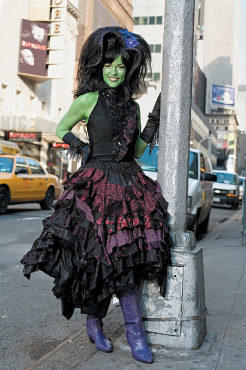 Lisa Brescia
Photo: Jay Muhlin
"People don't realize that long after everyone else has left the theater, Elphaba is still cleaning her ears."
Are you Loretta Lynn dressed as the Wicked Witch of the West? [Laughs] No, I'm from the cast of Wicked. I just did a production number called "Wicked at the Grand Ole Opry" for a competition. It was a countrified version of a number from the play. A big hoedown.
Do you play the Wicked Witch in the show? Yes; I'm the standby for Elphaba, who becomes the witch.
I never knew that was her real name—weird. Is your getup making little dogs cower? I haven't seen any animals, but it's agony! I'm really not one to seek out attention....
But you're a performer! I know, but once I get onstage as a character within a story, I feel different. Out in the world I'm more introverted.
You're perfect for our Green issue, you know. Are you eco-conscious in addition to being olive-skinned? [Laughs] I'm beginning to be, just like most of America.
How is it wearing all that makeup? Wearing it is great, getting it off is tragic. It really takes some doing.
How old are you? Oh God, do you need to know?
Is it hush-hush? Elphaba is 19, so for me to say might not be wise.
What's Elphaba's story, anyway? She is a do-gooder, but everything she does backfires. The lyric is, "No good deed goes unpunished, no act of charity goes unresented." She decides to never do any good deed ever again. That's how she becomes the Wicked Witch.
But does she ever specifically articulate that it's not easy being green? [Laughs] No, just backstage, when trying to get the makeup off.
--Kate Lowenstein