Lucy Burns, 79, and Ronald DeNota, 78
Hudson St at Bank St
By Time Out editors Thu Jul 27 2006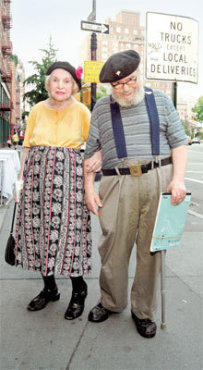 Lucy Burns and Ronald DeNota Photograph by Donald Bowers
OCCUPATION: "He's an artist. He paints landscapes and portraits as part of the Street Painters group. I used to work at an insurance company. Now I'm retired and I do what I want to do!"
HOMETOWN: "We're both strictly New Yorkers. I was born on East 26th Street. I've never been anywhere else. I like New York and I stay here."
HOW DO YOU KEEP THAT YOUTHFUL APPEARANCE? "I don't know. Good livin', I guess."
BEEN TOGETHER LONG? "We stopped counting. It's at least 40 years. We were set up on a blind date by a friend. Everybody says we look like a nice couple. We're very happy together."
"A friend of mine made this hat for me. I wear it all the time. I get a lot of compliments on it."
Not all of us have such crafty pals. Buy your own headgear at J.J. Hat Center (310 Fifth Ave, 212-239-4368), where berets (pink flower not included) start at $25.
--Market editor Kristina Dechter, edited by Kate Lowenstein