Luis de Jesus, 39
Avenue A between 13th and 14th Sts
By Time Out editors Thu Feb 8 2007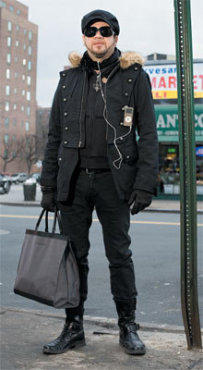 Luis de Jesus Photograph by Jay Muhlin
"Unfortunately, I have to wear black for work. Honestly, though, I prefer wearing color because I'm such a happy guy."
Where are you from? My parents are Puerto Rican but I was born in the Bronx.
What do you do? I'm a Lower East Side streetwear designer. Most of my work is reconstructed surplus stuff. Actually, a guy just bought ten of my pieces for his store in Japan—that made me feel good.
Going international! [Laughs] Yep, a little Puerto Rican from the Lower East Side. My mom's really proud. It took a long time, but I wanted to experience life first.
Life, huh? What was that like? Well, I was a club promoter for Limelight and Roxy. I actually worked for Michael Alig.
No kidding—the murderer? Heh, yeah. I had to take that one off the rsum.
Ever miss that action-packed life? God, no. But I'm so glad I did it. I was a big nighttime celebrity myself. My name was Lollipop Luis. I lived with a famous club kid for six months. Now he's a clown. He keeps my creative juices flowing.
Do you clothe celebrities now that you're not living with them? Yes—Gwen Stefani's husband bought her this glam 1920s camouflage skirt. It didn't fit her so I had to tailor it, which was really cool. And I did a couple bondage ones, but those didn't fit either.
So Gavin Rossdale couldn't remember his own wife's size? [Laughs] Yeah, I was like, dude, I don't think she's an extra small....
What's the worst trend right now? Oh my God, Uggs. If I see another pair of those I'm gonna smack someone.
Fashion over comfort, then? Yes. A true fashion victim always puts fashion over comfort. And girl, I'm one of them.—Kate Lowenstein