Manny DeJesus, 23
Ninth Ave between 21st and 22nd Sts
By Time Out editors Wed Aug 8 2007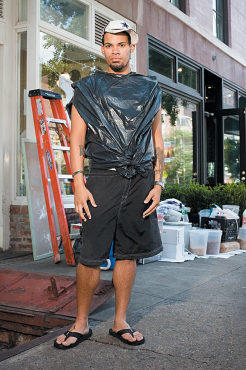 Manny DeJesus
Photograph by Jay Muhlin
"People keep seeing my shirt and saying, 'That's gonna be the new thing!' And I'm like, I should start a new fad."
Are trash bags next season's hottest trend? [Laughs] Maybe. I work at Billy's Bakery. We're doing renovations and I don't really want to mess up my clothes, so I decided to make this shirt.
Do you ever accidentally on-purpose swipe the side of a cupcake so you can lick the frosting off your hand? That's what I would do. We can actually get however many cupcakes we want. But once you have one or two you're pretty good.
I think you might want to consider giving up cupcakes for fashion. [Laughs] I actually have a job offer to work as an assistant to a psychologist at the Ali Forney Homeless Shelter, a gay-and-lesbian center for teens.
Wow, that's great. Hey, are those nails tattooed onto your feet? Yeah. I just got them a week or so ago. I've always been fascinated by Christian art, especially the stigmata.
Are you getting them on your hands, too? Yes, I'm getting them on my wrists—when people get crucified you never do it on the palms because it would just rip right through your hands. I know, it's really gross.
Talk about stigmatization—aren't you afraid people will react strangely to your tattoos? Not really. I think any tattoo that's pretty is seen as a piece of art.
And your last name just happens to be DeJesus. And my first name is Emmanuel, so my name actually means Jesus of Jesus.
Man, and you hang out with the homeless, too. It's like the second coming! [Laughs] I'm gonna write that down: Someone told me I was Jesus today.--Kate Lowenstein