Martin Luther King Day events: How to mark MLK's legacy
Make the most of your time off. Mark the civil-rights leader's achievements at performances, programming and Martin Luther King Day celebrations in New York.
By Time Out editors, compiled by Jonathan Shannon Fri Jan 18 2013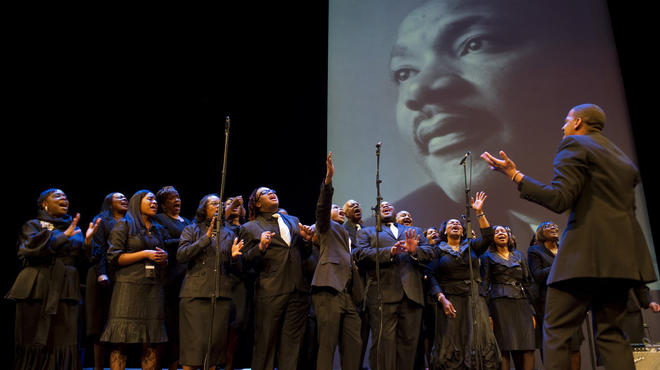 Photograph: Elena Olivo
Since it was first observed nationwide in 1986, the holiday commemorating the life of Dr. Martin Luther King Jr. has served as a reminder of his legacy—to the causes of civil rights, nonviolent opposition and community service. There are plenty of events to check out on the day itself and over the weekend, including live-music tributes, museum exhibits, readings and more. And to help round out your day, we've picked a few more things to do, too.
Martin Luther King Day events on the day
---
Martin Luther King Day events over the weekend
Since 1982, Stanley Tannen's Toward International Peace Through the Arts project has produced readings featuring significant talent, and this MLK-themed event is no exception. David Strathairn, Frances Sternhagen and Fritz Weaver read excerpts from speeches by Abraham Lincoln, Thomas Jefferson, Barack Obama and others.
Price band: 2/4
Critics choice
Indie-hip-hop titan Talib Kweli plays with a full backing band in honor of Dr. Martin Luther King Jr. and Gil Scott-Heron—and if there's a man up to that tall order, it just might be this iconic local rapper.
Camilo José Vergara photographed murals of Martin Luther King while traveling around the U.S. in the years after the civil-rights leader's assassination. The works combine iconic poses with the cultural sensibilities of the artist and the influence of the neighborhood in which the painting is located.
---
Other things to do on Martin Luther King Day
---
---
Write your own review