Marvin Waldman, 66
Wall St at Broad St
By Time Out editors Thu Feb 12 2009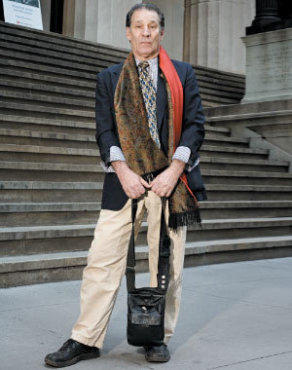 Marvin Waldman
Photograph: Jay Muhlin
What are you up to? I'm about to go into the New York Stock Exchange to assess things. My company, the Psynance Consortium, is in the business of holding companies accountable for their actions.
You're consultants? Yeah.We're a psychological computer-tech firm.
Do you do psychic readings, too?I don't do psychic readings, I do complete readings. It's the gift God gave me: the psychology of finance.
God? I'm also a Christian pastor of the Nazarene faith. We're pure Christians.
Hmm. I see. Are you from New York? I grew up on the Lower East Side. But now I have a new life in Vermont. I have a two-year-old son and a four-year-old daughter. And my oldest daughter is 42. I have five grandchildren.
So your grandkids are older than some of your kids? My son and daughter are older than my wife.
Age ain't nothin' but a number?I have no thoughts about that because God told me what to do.
Right. Is there overlap between your gigs as pastor and, uh, psynancier? God says you have to hold people accountable or else their blood is on your hands.
The Stock Exchange is a hell of a big load to take on. Well, when God said to Moses, "You're gonna lead my people out of Israel," Moses said, "What, are you nuts?" and God said, "No, I chose you and you're gonna do it."
So are you Moses 2.0? [Laughs] Moses in the 21st century! Maybe so.
More from Marvin
"I'm one of the Chosen, blessed Jews who became a Christian. I became a Christian on my 60th birthday. I had to give up my toys. I used to race cars: I had a Jaguar V12."
"My grandfather organized the teamsters union with Jimmy Hoffa in the '30s. I still have a 1937 union card from my father."
"When I hit 60, I had to make sure I didn't have prostate cancer. Mind you, I haven't gone to a doctor in 40 years. So how do you test yourself? You find a woman and spend the whole weekend with her. If everything works, you don't have prostate cancer.... As you get older, you want someone to settle down with. I wanted a woman who was loyal, friendly, courteous, kind, obedient, cheerful, brave, clean and reverent. So I went to church."
—Kate Lowenstein
Editor's note: Mr. Waldman wrote 6 months later to retract his statements about "psychic readings" and "a pagan attitude" and says now he "is not the person depicted in our article."