Michelle Harper, 28
Christopher and Hudson Streets
By Time Out editors Thu Sep 7 2006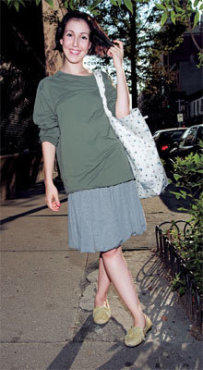 Michelle Harper Photograph by Donald Bowers
Where are you from? Colombia, South America, but I've lived all over the place. I've been in Manhattan for about ten years.
What do you do for a living? I'm the cofounder of a cosmetics company. We're not launched yet so I can't say what it's called.
Why do you look so happy? Well, I just got engaged last week.
Wow. How'd that happen? I tricked my boyfriend, Daniel, into thinking I'd totally forgotten his birthday. He was sulking around. I brought him to the Sway for the Smiths party—he thought we were just going to the bar, but when we arrived, all of his closest friends were there and he realized that I'd had a trick up my sleeve! And then he proposed to me right there on the spot. Like, "Happy birthday! Surprise, surprise!"... And then he turns to me and says, "Will you marry me?"
With a ring and everything? No! He proceeded to fashion a ring out of rubber and foil—he's a cyclist, so he had a patch kit in his bag.
Sounds funky. You gonna wear it forever? [Laughs] No, no. I'm happy to say I have a real ring now. The other one smells really strongly of rubber cement. It was, like, making me high. He walked into the middle of a meeting at work and gave me the real ring in front of everybody.
Overall, a very public proposal. Will your honeymoon be so high-profile? No way! We're talking about going to Tibet, Bhutan and Nepal. We like adventure trips.
Will you bring up your kids in New York? Yes, I think kids get savvy growing up in the city. It makes me a little less worried for them later in their life.
"This bag has spray-can nozzles printed on it. It's by a graffiti artist--designer named Stash. My fianc is friends with the graffiti artist Futura, who is part owner of Recon. He took me to the store and got me the bag...which was really great."
Okay, so you may not know the owner, but you can get one for yourself for $154 at Recon (359 Lafayette St, 212-614-8502).— Kate Lowenstein