Mike Kelley and Michael Smith
We interviewed the artists about their video installation for SculptureCenter.
By Time Out editors Tue Aug 25 2009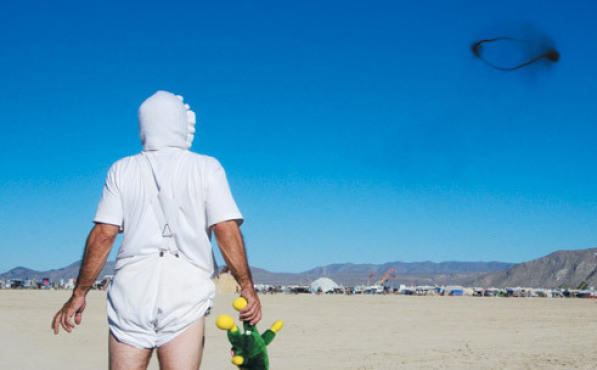 Time Out Ratings :
<strong>Rating: </strong>0/5
Artists Kelley and Smith have known each other since 1975 and share a fondness for the pop-cultural id of America's collective consciousness, so it's only natural that they work together. Their video installation for SculptureCenter, A Voyage of Growth and Discovery, revolves around one of Smith's long-standing performance-art characters: Baby Ikki, a forlorn man-toddler in a T-shirt, oversize diapers, baby bonnet...and sunglasses. The piece follows Ikki's adventures at an annual countercultural gathering in Nevada, which for legal reasons cannot be mentioned by name.
So how did this piece come about?
Mike Kelley: I thought it'd be interesting to cast a character like the baby in a situation where he gets abducted, or something much darker. I wondered, Where would a good place be? First I thought of a rave...
Michael Smith: But then we remembered this special festival of free expression.
Did anybody even notice the baby there?
Kelley: Mostly he was ignored—except by women and gay men. He seemed to bring out their nurturing instincts.
Smith: One woman came up to me and told me she was lactating.
That seems more sweet than dark.
Smith: The baby was put through an initiation ceremony onstage at Spike's Vampire Bar. It was pretty unsettling to be constrained by fanged female vampires. It was especially upsetting for the baby after they confiscated his stuffed frog.
What did you guys learn, personally, about free expression?
Kelley: Nothing. I couldn't go [to the festival] at the time and, to tell you the truth, didn't have any interest in going.
Smith: That I'm still the same repressed guy that I was starting out.—Howard Halle
SculptureCenter (sculpture-center.org). Opens Sept 13.
---
BACK TO MAIN PAGE
Fall Preview 2009
There's something--no, a zillion things--to look forward to this coming season.