Mike Stylezz, 23
28th St between Eighth and Ninth Aves.
By Time Out editors Thu Jun 18 2009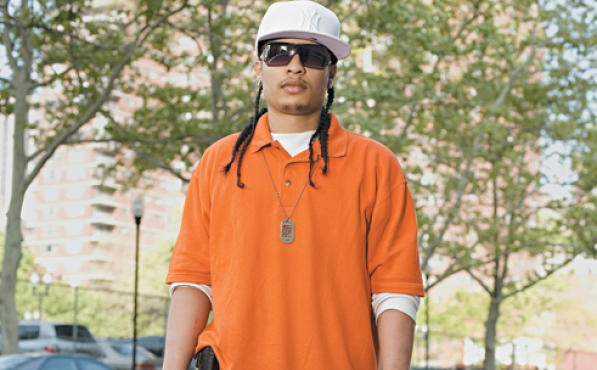 Photograph: Jay Muhlin
Only two zs? [Laughs] Only two. You can't try too hard to be edgy.
Right. And zzz would be like taking a nap. Exactly. Mike Stylezz is what I go by—I'm a blogger at ihiphop.com.
What do you blog about? It ranges from albums to controversial topics like Rihanna's nude photos last month. It's a social-networking site focused on what's new in the industry. I know you run a magazine and everything, but the Internet is really taking away from magazine ads these days.
So I hear. But what do you read on the toilet? [Laughs] Oh man, I don't read on the toilet! But what I do read in print is car magazines. In my free time I work on old cars: Impalas, Cadillacs...
I thought New Yorkers didn't care about cars. Ever since I was young, my dad was into muscle cars. It's something to do in my free time to keep me out of trouble.
Okay, so there's a beautiful car coming down the street and a beautiful woman coming down the sidewalk. Which one do you break neck for? I'd admire that car a lot more faster than I would the female. If it's a nice car with chrome and paint, it's a work of art. I'll give a female credit for the way she looks, but what with the makeup, the weaves and the wigs, you never know what you're gonna get. And even if she's naturally beautiful, who's to say that her personality isn't messed up? I'll glance at her, but I won't stare. I'm supposed to have composure, you know?
More from Mike
"Sunglasses are my trademark. In high school, I was the dude who walked through the hallway with a nice outfit and matching sunglasses—Burberry, Gucci, whatever."
"I use the word female because they're always going to be a female. Someone could be 25 but have the personality of a 15-year-old, or 18 with the personality of a 45-year-old. So I don't like to say that she's a girl or a woman. That says something about the way that you think."
"I'm trying to get into representing models. There are a lot of attractive girls in my neighborhood who want to put themselves out there, not as runway models, but in videos and things like that, but they don't know how to start. There's a stereotype that video models are ho's and the reason why they get there is because they sleep with their directors, and I'm trying to break that."
—Kate Lowenstein