Miss Dolly, 22
St. Marks Pl and Second Ave
By Kate Lowenstein Wed Apr 30 2008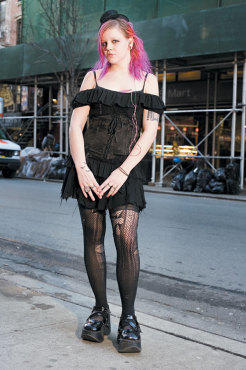 Photograph: Jay Muhlin
What's up with the pseudonym?
It's a nickname I've had for years. Everyone says I look like a doll.
That's not exactly your standard doll getup.
I've been dressing this way since I was 13. I do alternative modeling for a bunch of magazines and band flyers.
Are you rebelling against something?
There's no rebellion involved; it's just fashion. I grew up with my uncle and my mom, who are both punk rockers. I'm at FIT, and I have an associate's in accessories.
Accessories! Does that involve taking scissors to a pair of tights? Or shrinking hats?
[Laughs] No. I make shoes, handbags and belts. I do evening wear, punk-rock stuff and mainstream Fifth Avenue style.
Do you work?
My friend Wendy and I have a line called Le Dollhouse Boutique. We make simple things because we don't want to charge a ton of money. I also used to be a dominatrix.
Ah—Miss Dolly, now I get it. So what was a regular day at the dungeon like?
It was a fun job. I worked at Jezebel on Fulton Street. Our clients were mainly Wall Street guys. Most wanted to be spanked or flogged, or do role-play. Everyone thinks he must be the only one who wants something weird, but actually every client is pretty much the same.
So, essentially, Wall Street fetishists are really unoriginal?
Apparently, yeah. If you work in the industry, it's really not like, "Oh my God, you want what?!?" It's more like, "I've done that, like, five times this week—it's fine."
More thoughts from Miss Dolly
"My mom brought me to get my first lip ring when I was 13. We're planning on getting Sailor Jerry tattoos this summer. They're old-old-school."
"I'm going to be working at the Chiller Horror Convention in Parsippany, New Jersey, May 2--4. I'll be doing a makeup booth—using prosthetics, making people into creatures and zombifying them."
"My friends and I like to walk or jog around the reservoir in Central Park, since I live so near it. We wear leggings, skirts and corsets, and just run in regular shoes. We're too lazy to buy workout clothes."