Monica, 47, and Nicholas Missio, 12
Puff and Pao bakery, 105 Christopher Street
By Time Out editors Thu Sep 14 2006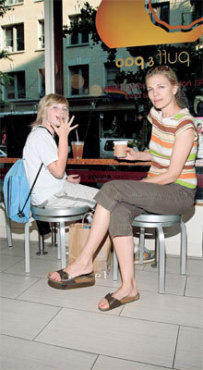 Monica and Nicholas Missio Photograph by Donald Bowers
How old are you? 47.
Did you say 47? You look more like 35. [Laughs] You can publish that instead if you want.
How old is your son? He's at the ripe old age of 12. When I say how old he is—and how old I am—I think, Oh my god...time is flying.
What do you do? I'm a lighting and furniture designer. I have my own company called CX Design. Nicholas goes to school at Little Red School House and is a big fan of anime.
What's so finger-lickin' good? Nicholas is gorging himself on a cream puff. I'm drinking house coffee with milk. They make great coffee here. This is one of Nicholas's local haunts.
What are you reading right now? I'm reading...I can't remember the title. See, I am 47! Oh yeah, it's The City of Fallen Angels. Great book. It takes place in Venice, and I spend a lot of time there since it's where my company's glass is blown.
What was the last song you downloaded? Something by Band of Bees. They remind me of stuff I listened to when I was a teenager.
How much would you pay for a haircut? Well, I go to my favorite person, Andreas, at Robert Kree Salon. The price is too much to mention. If I told you, my husband would read it and have my head. But Nicholas gets his hair cut at Sei-Tomoko for a bargain. I should probably get my hair cut there too.
Where do you go to relax? Italy. Or Orient, New York.
Are you from NYC? Actually, I was born in Italy, but I grew up in the Boston area. I came to New York in 1982, back when it was a very different town.
So, Yanks or Red Sox? Oh dear, that's a tough one. I say Yankees but believe it or not, Nicholas is a Red Sox fan.
"I got these sunglasses in Amalfi, Italy. They're Byblos, which is such a typical brand for someone who's into comfort, like me."
Save yourself the harrowing trip to the Mediterranean and instead visit giarre.com, where the designer shades start at $98.—Kate Lowenstein