Nathan Stodola, 26
Gansevoort St between Greenwich and Little W 12th Sts.
By Time Out editors Tue Jul 21 2009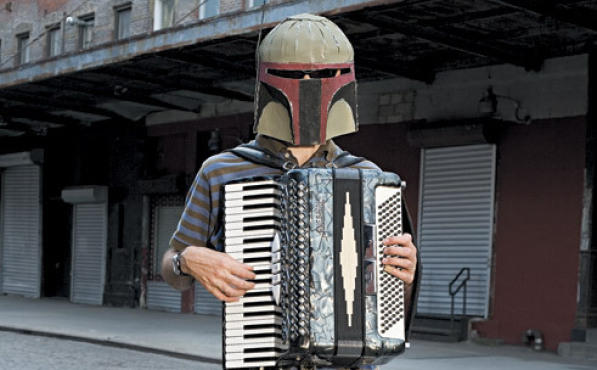 Photograph: Jay Muhlin
This is a new one. What does Boba Fett have to do with the accordion? Nothing, so far as I know, though I am not an expert. He is just a bounty hunter who is most famous for capturing Han Solo, but I'd like to think that, in these hard economic times, bounty hunting isn't what it used to be, so he has had to turn to other paths of employment.
And you have too, it seems? Yes. I finished my masters in mechanical engineering at Columbia in December and I've been looking for a job. I've had 12 interviews and have applied to 100 jobs, but nothing has come out of it yet. I figured I could actually earn some money doing this.
And? I'm not getting rich but I'm paying the rent.
Impressive! What songs do you play? Of course, the Star Wars theme, and then other major movie themes, TV themes, video game themes and covers of surf-rock music.
Is this a reflection of New Yorkers' lowbrow tastes? I think people like something they recognize.
Did you hear about the time Joshua Bell tried busking and no one noticed? Yes! Musical talent is important for street musicians, but you also need to know how to present yourself, where to go and how to interact with the people.
And you need a snazzy helmet. [Laughs] Yes, and he could have pulled that off.
More from Nathan
"I'm looking for some kind of job in green technology. If nothing else works, I've been accepted to City College's Transportation Engineering master's program for the fall."
"Yes, I'll play at parties."
"I've been playing accordion for about five years, and piano since fourth grade, so the right hand was easy and I taught myself the left side. There are some really complicated accordions that have different sets of reeds that you switch between using your chin because your hands are busy. I don't have anything nearly that complicated."
—Kate Lowenstein