New things to do
These recent arrivals to the NYC scene are so compelling you'll want to look away from Facebook---at least for a little while.
By Sarah Bruning and Billie Cohen Tue Nov 30 2010
New things to do
---
La Lucha
The lucha libre decor in this place is so head scratchingly over-the-top, it becomes endearing. Among the wrestling posters and action figures lining the walls and the metallic vinyl banquettes that recall fighters' masks, you'll be too distracted to live-blog the experience until after you've inhaled your Cicln Ramirez tacos ($4) and a glass of tamarind water ($2.75). And even if documenting it does cross your mind, would it be worth the risk of smearing chipotle sauce on your new phone? We didn't think so. 147 Ave A between 9th and 10th Sts (212-260-0235, laluchanyc.com)

Loft/Lab concert series
MP3 blog Destination: Out has been enlightening ears for a while now with its expertly curated selection of rare avant-garde jazz tracks. This year, the guys behind the site have taken their mission into the real world with a monthly live-music show—a trend we'd like to see other Web destinations follow. At the next show, on December 9, catch percussionist-composer Tyshawn Sorey in a special trio with Steve Lehman and Todd Neufeld. Salt Space, 1158 Broadway at 27th St, fifth floor (saltspacenyc.com). Dec 9 at 8pm; $10.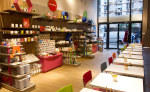 Make Meaning
After a long, hard day of slacking off at work by updating your obsessive foodie blog with photos from that hole-in-the-wall it took you four hours to find in Queens, you'll need to recharge with some legitimate creative relief. That's where this little DIY craft depot comes in: Attend classes on making jewelry, glass art, candles, soap and paper, or just walk right in and create. (We won't judge you if you make a candle in the shape of a pork bun.) You can also buy wares from the boutique—just in case you fail. 329 Columbus Ave between 75th and 76th Sts (212-362-0350, makemeaning.com)

Our fave new stores
Hit the style mecca of Williamsburg for Life: Curated (186 Grand St between Bedford and Driggs Aves, Williamsburg, Brooklyn; 347-689-9143, life-curated.com), where you can peruse longtime friends Sarah Meyer and Ryan Thomann's collection of men's and women's clothing, accessories and housewares that blends modern and vintage with a touch of Americana. Then satisfy your craving for under-the-radar brands while still maintaining your indie cred at Convent (179 Stanton St between Attorney and Clinton Sts; 212-673-0233, conventnyc.com).

Pain d'Avignon
Buttery croissants ($2), crusty ficelle ($2) and kalamata-olive-studded rounds ($5.75) are only a few of the rotating offerings available at the first retail outpost of the Queens bakery. Take a moment to breathe in the shop's aromas before you post your Foursquare tips. The Essex Street Market, 120 Essex St between Delancey and Rivington Sts (212-673-4950, paindavignon-nyc.com)