New things to do
These recent arrivals to the NYC scene are so compelling you'll want to look away from Facebook---at least for a little while.
By Sarah Bruning and Billie Cohen Tue Nov 30 2010
New things to do
---
Paulie Gee's
A middle-aged, slightly awkward pizzaiolo, owner Paul Giannone is driven purely by the love of his craft. He layers simple ingredients—creamy fior de latte, bright tomato sauce, fresh arugula—over pliant, well-charred crust and lets the pies ($13--$17) speak for themselves. So should you. 60 Greenpoint Ave between Franklin and West Sts, Greenpoint, Brooklyn (347-987-3747, pauliegee.com)

The Pee-wee Herman Show at the Stephen Sondheim Theatre
The first green theater on Broadway delivered a lot more than just an eco rush when it opened last year. Formerly called Henry Miller's Theatre and now named after the great musical maven Sondheim, the 1,055-seat venue has roomy chairs (by Broadway standards), 22 stalls in the women's bathroom and, as usual, a no-cameras policy. You'll have to take in the magic with your own eyes—not your camera lens—when you see The Pee-wee Herman Show, whose brightly colored, fantastical set pops even more next to the theater's combination of modern design and restored original touches, including decorative plaster friezes and the original 1918 facade. 124 W 43rd St between Broadway and Sixth Ave (212-239-6200, peewee.com/broadway).Tue 7pm; Wed 8pm; Thu 7pm; Fri 8pm; Sat 2, 8pm; Sun 2, 7pm. $67--227.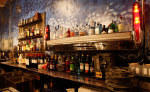 reRun Theater
Toss back some suds, gorge on gourmet snacks like duck-confit dogs ($8), and gawk at cult classics at this microcinema inside reBar: The very-indie indies that screen here (selected by TONY contributor Aaron Hillis) are often undistributed gems from the festival circuit, premieres or repertory finds. This month, grab a reclaimed minivan seat in front of the 12-foot screen for Mars (a rotoscope-animated sci-fi rom-com; Fri 3--Dec 9; $5), Beijing Taxi (a sociopolitical doc about three hacks in China; Dec 10--16; $5), Satan Hates You (not surprisingly, a sacrilegious horror flick; Dec 17--23; $5) and the free series "Pink Xmas: The Holiday Cheer of Japanese Sexploitation" (Dec 24--Jan 6). You won't touch your iPhone all night. reBar, 147 Front St between Jay and Pearl Sts, Dumbo, Brooklyn (reruntheater.com)
The return of Tony-worthy Broadway musicals (and plays) after the season of Memphis
It was a tough year, that 2009. Tired, simple tuners seemed to rule, with productions geared to the lowest common denominator/visitor. But we've now had a year filled with the winning audacity of , the whimsical cleverness of , the impressive acting chops of and the contagious irreverence of . Last year, Broadway was sluggish and predictable. This year, it woke up.

Righteous Kill at Ace of Clubs
This weekly show has existed in a few different iterations (it was once called Punch Up Your Life, located at Housing Works Bookstore), but the current version is what's getting us stoked: Joe DeRosa and Jared Logan are two local comics who are almost bigger than the show already, yet they still write bits together, offset one another's energy and keep the room warm for their guests—all up-and-comers themselves. 9 Great Jones St between Broadway and Lafayette St (212-677-6963, righteouskillshow.com). Tue 8:30pm; $5.