New things to do
These recent arrivals to the NYC scene are so compelling you'll want to look away from Facebook---at least for a little while.
By Sarah Bruning and Billie Cohen Tue Nov 30 2010
New things to do
---
The Spa at Trump Soho
Apart from the fact that you will very likely be naked during your insanely indulgent 90-minute hot-stone massage ($185), there are other reasons to skip making a "hey look at me lookin' all glowy!" TwitPic post from this haven. Lose yourself in the Turkish and Moroccan-themed elements (of which the heated toilets are not the least awesome), and then give over to a serotonin-boosting facial ($150--$350) or a Turkish hammam bathing ritual, which is a wet exfoliant-and-oil treatment performed in a templelike dome (45min for $100). #leavemealoneI'mbusy. 246 Spring St between Sixth Ave and Varick St (212-842-5505, trumpsohohotel.com)

Sperone Westwater
When passing by Sperone Westwater's brand-new gallery building on the Bowery, there's a big temptation to whip out the ol' iPhone, take a shot and keep walking. The eight-story edifice a few doors down from the New Museum is designed, after all, by one of the best-known starchitects out there: Lord Norman Foster. Its striking glass facade with a giant red elevator scooting up and down certainly makes for an impressive urban spectacle. But it's even better on the inside, where capacious spaces house big-name contemporary art. And that elevator? It's actually a moving gallery space. 257 Bowery between E Houston and Stanton Sts (212-999-7337, speronewestwater.com)

Steamboat: A Literary Humor Series at Greenlight Bookstore
You'll be laughing so hard at this monthly event for bookish comics that you'll be rendered incapable of texting. Past guest stars have included Josh Lieb (The Daily Show producer and author of I Am a Genius of Unspeakable Evil and I Want to Be Your Class President) and Andrea Bartz and Brenna Ehrlich (authors of the blog and book Stuff Hipsters Hate). As for Greenlight itself, it's a one-year-old brick-and-mortar bookstore that's actually generating interest and support from its community. While some of that attention is due to online buzz, it's also coming from real-life people stopping into the shop and returning for what's at the heart of the store: good books. 686 Fulton St between South Elliott Pl and South Portland Ave, Fort Greene, Brooklyn (718-246-0200, greenlightbookstore.com). Third Thu of each month at 7:30pm; free. No December meeting; next date Jan 20.

The Underground Rebel Bingo Club
This hipster revival of bingo is aided by alcohol, crude language, loud music, and prizes like an electric guitar and an inflatable pool. Co-organizer James Flames boasts the event is "better than sex," which is one reason he imported it from London this past summer. As for the claim, we leave that to you to decide. Location TBA; $20. Visit rebelbingo.com for more info. Next date Dec 11.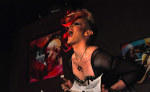 Vig 27
This one-year-old nightspot has both looks and personality: The space is fronted by a glass facade and hides a darker room in the back. The crowd is a gay-straight mix during happy hour (5--9pm), but it gets gayer as the night goes on; weekly events like the Meaner Harder Leather burlesque show keep the scene lively. 119 E 27th St between Park Ave South and Lexington Ave (212-686-5500, vig27.com)